en.wikipedia.org/wiki/Dig_BMX, september 2007:

Dig BMX is a bi-monthly BMX lifestyle magazine currently based in both the U.K. and U.S. Started in 1993 by editor/designer Will Smyth, Dig BMX's beginnings were originally based in an attic/office in the Holy Land area of Belfast, Northern Ireland. It has since moved to Glasgow, Scotland, while also retaining a U.S. editorial base in New Jersey, U.S.A. It regularly publishes articles (not limited to the BMX subject), BMX photography, interviews with professional BMXers, interviews with and reviews of musical groups, product reviews, and miscellaneous oddities.



www.myspace.com/digbmxmag, 2005:

I was born in Belfast, Northern Ireland in 1992 as the bastard offspring of Will Smyth and Ed Docherty. I am a BMX magazine put together in Glasgow, Scotland; with help from friends in Texas, Vancouver, Leeds, New Jersey, Cologne, etc, etc. Basically, people from all over the world come together to make Dig what it is.

Publishers: Will Smyth (issues 1-5), Air Publishing (issues 6-10), John Paul Rogers and Chris Moeller (issue 11), Permanent Publishing (issue 12-47), Will Smyth (issue 48), 4130 Publishing (49-..)



Kieran Chapman, www.ewirezine.com, 1998:

(...) Dig is my favorite riding magazine. It has everything I like in my reading material: cool designs, interesting and funny articles, rad photography, coverage of good music, and tons of riding.(...)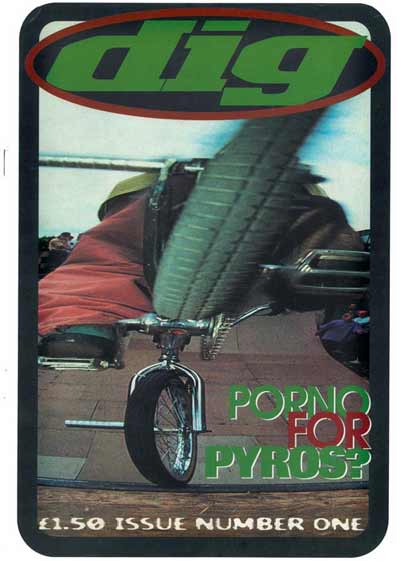 issue 1 - april 1993
Ian Morris canadian nosepick on the cover.
Taj Mihelich has his first ever interview.
S&M and Redline tests.



Will Smyth, Dig january 2006:

The first cover shot was of Ian Morris doing a Canadian nosepick on the 'outside' ramp of the now defunct Radlands in Northampton. It's brilliant, abstract nature looked like a purposeful statement of intent for Dig to always give a different view of BMX. In actual fact, it was just pure flook. The photo was taken by Percy Dean who's a skateboarder. He is also now the editor of Document. He didn't really have much knowledge of bike tricks, he was just standing too close to the coping, so when Ian's backwheel swung round it hit Percy's camera sending it flying to the floor and accidently firing the shutter.
Taj Mihelich had his first interview in this issue. You could tell even back then that he had a powerful style that was going to stand the test of time.
Video grabs were cutting edge technology and issue #1 was full of them. At the time, they served a purpose, but looking back, some of them are pretty poor.
The inside cover featured Joe Sandland doing a front flip. Joe and the front flip soon disappeared. It's taken another 49 issues for the front flip to rear it's head back into the world of BMX. And I'm not sure where Joe is.
I remember driving in a van and a crammed full estate car to a printers and loading so many boxes of the mag into any possible space. I was amazed at the weight. For weeks, my house was used to store some of these boxes. The smell of the fresh print lingered for some time. My Mum thretened to burn them on a daily basis and I used boxes of mags as a speaker stand in my bedroom, just to keep some of them out of the hallway.
Believe it or not there were bike tests in this issue. They were kinda started for BMX Now Mag (what? I hear you say). One of the bikes was a Redline which was completly smashed. We knew the distributor was pissed about this, so we never ran photos of the bike in bits.
Dig issue #1 featured the Hoffman BS Comp in Oklahoma. This was with Mat's 20 foot high ramp. At the time, the photos of him doing a 25 foot air had just been released. It just seemed so stupid, kinda like one of his jokes. I was pretty scared watching Steve Swope an a motorbike dragging Mat on a tow rope at considerable speed towards the ramp. But he really did go 25 foot into the air...
Chris Moeller wrote a story about his trip to England for a Backyard Jam. It was way bigger than any of his infamous dog bites articles from Go: The Rider's Manual.