1995
Sean McKinney, Nate Hanson and Day Smith were working in the Primo warehouse to help them getting into the freestyle side of the sport. They were just a race component company at the time.


Sean McKinney, Ride BMX UK april 1997:

We were kind of surprised about Primo. It all started with that V-Monster tyre. Me and Day Smith approached the owner of Primo, told him all of his imitation BMX components are lame, they suck and nobody wanted it, why are they fooling themselves, let's do something with freestyle. We had a meeting with the guys from Cheng Shin from Taiwan, described to them what we needed in a tyre, what we thought would work for most people, we wanted it to work not just for flatland but for everything. Small specialised parts usually don't go too well. So we gave them patterns and told them the nylon wall had to have so much TPI [threads per inch] so it wouldn't blow out. The final touch was putting that knurling on the tyre that you can find on most road bike tyres believe it or not, that's where we got that one from. So we gave them the whole scoop. We even researched rubber compounds to make sure the tyre didn't wear down too fast, because it wore down real fast at first. It still does, but it's way better. Once we'd done that they basically said, "Thanks for the ideas, you guys are salesmen and warehouse workers, so go back to work!" Things were the same and we didn't get anything else; they didn't help us out. Except that we were sponsored by them and they are a great sponsor, you cant go wrong with them as a sponsor. We went ahead and designed more products for them, the pedals, the pegs, the seat and the freecoaster hub with 1/2 inch axles and sealed bearings that actually works, but they wanted to make it in Taiwan so it's been two years since we've actually seen one. (...) Primo never cut corners on our designs. What they would cut corners on was if we said something needed to be made in America, they refused and wanted to do it in Taiwan. That was pretty frustrating. It comes down to that sealed bearing, 1/2 inch axle coaster hub that we did. A dream come true. Everybody's been asking for it for two years. We had one made in America, we jobbed it out to a company called Dig-It who sells Graveyard and Love-Goat Products. They helped us machine and make a hub, it worked perfect. Two years later and they still don't have the hub available because they're trying to make it in Taiwan and Taiwan can't come up with new ways on manufacturing things. They're very repetitious in the way they manufacture stuff. Whereas in America you've got more leeway with a company building something from scratch although it costs a little more. (...) We didn't want to pick products out of a Taiwanese catalogue and put our name on it. Primo put up the money to create tools to make completely new tyres, new pedals, new products that haven't been seen before. Everything turned out better than we expected, it was pretty inspiring. (...) With Primo we wanted to show them that we knew what we were talking about and when you get a bunch of Asian guys who own the business and a bunch of lame ex-roadbike rider employees who managed the business we basically felt we were treated bad. It wasn't just me giving ideas, it was Sean White, Nate Hanson, Leo, Day, all of us. Once they saw that things were going well we were basically treated as if a secretary could have done the same job that we did, but Primo wasn't a very reputable name until we came in there and made it something. Not saying that we single-handedly did it because without their money we couldn't have done anything. Luckily things went well but now Primo has got some guy managing the Primo area and the team, who knows nothing about anything. He's some Asian guy who really should understand that he has no right to be in that job. They've got a product manager who used to race road bikes and sell Time pedals and Giro helmets. How are you a manager and purchaser for a BMX distributor if you know nothing about BMX? I don't think they really know what they're doing.



V-MONSTER FREETYLE TYRE.
20x1.95
1998
Casket stem.

Gorilla cup.

Primo Wall tyres.

PRIMO MOE'S BARS.


Ride BMX UK december 1998:

Brand new from Primo comes these new bars designed by Brian Castillo. They're 4pc and pretty similar to the S&M Castillo bars (surprise, surprise) - thick walled cromoly tube, a really good size, 27 inches wide, good sweep, they're well made too.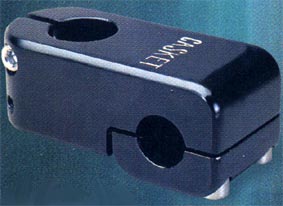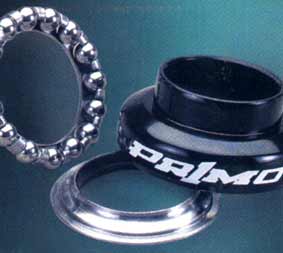 1999
Greg Walsh is working for Primo.


Greg Walsh, thecomeupbmx.blogspot.com, october 2006:

I met Brian Castillo on Road Fools 2, we got to be friends, and when a position opened up at Primo/ Tip, he asked me to come out. I went out to visit, took the job, and started working there on January 10th of 1999.