Regie: Darryl Nau. 30 minutes long. Released in 1998. Trail and street riding
Locations: New York, Pennsylvania, California, Ohio, Canada, Portland, and the East Coasts' best trails.
Starring: Garrett Byrnes, Van Homan, Chris Stauffer, Marvin Loetterie, Brian Iaroci, Pat Juliff, Mike Ardelean, Adam Aloise, Rich Hirsch, Derek Adams, ...

Garrett Byrnes does an extremely huge gap, tech-pegless street.
Chris Stauffer has some crazy-good dirt style
Van Homan's part has some of the sickest street tricks to date.
Crash section incorporated into clips from a Bad Luck 13 concert (Tables, fireworks, trashcans, fire, and baseball bats wrapped in barbed wire).



Darryl Nau:

The first video I made was Trail Blazin'. It featured a lot of Long Island dirt (7-11 trails, Oak Park, and included other trails like Push) with riders like Keith Terra, Brian Iarrocci, Luke Kempster, Rob Morales, and Van Homan to only name a few. After that I wanted to do another video and Van agreed to have a part. After some filming he brought to my attention that Derek Adams from Little Devil was planing on doing a video as well. I talked with Derek and asked if he wanted to sponsor my video and work together on it as well. As time went on some of the riders that were going to be in the video were put on
Little Devil ie. Pat Jullif. As time went on it panned out to have all of the Little Devil riders in it. The other sponsors pulled out and Derek contributed a lot to the video. The video got known as "The Little Devil Video" due to this. It was never intended to be a company video that is why Brian Iarocci and Chris Stauffer both have parts in the video and they are not on Little Devil. That is also why there is a Little Devil Commercial in the video as well. It can be misleading to anyone, myself included. The video defiantly would not have turned out like it did if it weren't for Derek and Myself working together.



Paul de Jong, www.fatbmx.com, 1999:

Rate: ** /5
"The Devil made me do it" is what the Golden Earing was singing long time ago and the guys at Little Devil must have listened and this VDO shows what real Street & Dirt is all about. Your FAT VDOMAN gave this a 5 star rate cause I think this is one of the best ever! Riders like Marvin, Garrett Byrness, Brian Larocci, Van Homan, Derrek Adams etc are not the most famous riders but they show that "none-factory" are even better than most "Factory" riders. Fireworks are the fashion these days and Garrett loves them. Nudebowl, Burnside, 711, and lots of Street and Trailspots are ridden by the best "underground" riders in the world. Trains at the trails and trains to crush your bike, what about smashing everything you can touch at the BAD LUCK 13 RIOT EXTRAVAGANZA! A crazy Concert by some really sick people getting drunk, also an appearance of Jay M. being drunk, lots of crashes and the girl in the end says it all: GOD HATES YOU, LEAVE !!!!!!!!!!!!!!!!!!!



BMXup #18:

La vidéo de l'année selon moi ! Les quelques images de présentation de la vidéo Little Devil dans Props nous avaient effectivement mis l'eau à la bouche. C'est donc avec une impatience non dissimulée que je découvrais cette vidéo bien particulière. Bien particulière car c'est d'abord une vidéo forte en personnalité. Lorsque vous aurez terminé de visionner celle ci, vous n'aurez qu'une idée en tête ils sont malades ces mecs! Imaginez un peu, une ambiance un peu satanique (en restant bon enfant je vous rassure), une musique bien comme il faut, lourde, trash et qui tape. Des images qui décoiffent, des concerts comme vous n'en avez jamais vu avec un groupe qui casse tout sur son passage. Enormément d'images chocs qui donnent un punch incroyable à cette vidéo. Et puis du riding bien sûr! Et quel niveau ces pilotes Little Devil. La plupart vous seront complètement inconnus mais cela ne les empêchent pas de déchirer comme il faut ! Un rider sort cependant du lot Van Homan que l'on connaissait comme dirter de talent, mais lorsque vous l'aurez vu rouler en street et en champ de bosse, vous comprendrez ce que je veux dire lorsque vous entendrez ces mots Van Homan rules ! Ses confrères de chez " Petit Démon " ne déméritent pas non plus avec notamment Garret Byrnes qui réalise the GAP ! Et une section crash, l'une des meilleures que je n'avais jamais vue. Généralement, lorsque l'on pratique du BMX, on apprécie moyennement ces parties (ça rappelle des mauvais souvenirs), mais on fera une exception cette fois citant le rythme est fou et que l'intensité est forte. Si vous trouvez encore un blaireau qui vous dit: le BMX, c'est pour les tapettes, montrez lui cette vidéo, il vous fera ses plus plates excuses. Garanti. Achetez la.



Rob Dolecki, Ride BMX US #100:

This video brought some of the best riders and scenes from the northeastern U.S out from the shadows, including Van Homan and Garrett Byrnes.



Ryan Guettler, Ride BMX US #100:

It made BMX look so fun and the riding wasn't just all big tricks like today's videos seem to be. Every time I saw it I wanted to ride and hang with my mates and have a good time just being on my bike.



Steve Buddendeck, Ride BMX US #100:

Van, Seek and Destroy, and Little Devil all came out of nowhere and became the most talked about rider, video, and brand of 1998. The video had style, originality, and plenty of antics, but best of all, it displayed Van's lust for difficulty and danger. This video had everyone talking.

TRACKLIST / SOUNDTRACK
Section: Artist - Title
Intro: Motley Crue - In The Beginning
Mix: Sepultura - Crucificados Pelo Sistema
Garrett Byrnes: Cream - White Room
Pat Juliff: W.A.S.P. - Hellion
Mix: Black Sabbath - Symptom Of The Universe
Rich Hirson/ Mike Ardelean/ Adam Aloise: ???
Marvin Loetterle/ Derek Adams: Motorhead - Ace Of Spade
Mix: Blue Oyster Cult - Dont Fear The Reaper
Little Devil: Twisted Sisters - Burn In Hell
Brian Larocci/ Chris Stauffer: Jimi Hendrix - All Along The Watchtower
Van Homan: Metallica - Battery
Bad Luck 13: The Bad Luck 13 Riot Extravaganza - Homicidal
Credits: Steve Miller Band - Serenade.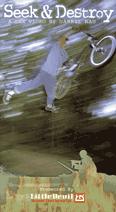 Garrett Byrnes part.
40 minutes long video edited by Derek Adams and released in 2001.

This much anticipated release features amazing riding from the entire Little Devil Team. This is a must-see video. 60% street, 20% ramp, 10% dirt, and 10% pure stupidity. Featuring Van Homan, Garrett Byrnes, Jason Enns, Matt Beringer, Josh Stricker, Kris Bennett, Marvin Loetterle, and Pat Judoff. Parental Guidance Suggested.



Merry, www.bmx-test.com, february 2003:

This movie is by far one of the best I've ever seen. The Little Devil crew goes off. Parts like Garret Byrnes' Bleacher Gap, Berringers Wall Flair and his Backflip-To-Sprocket Stalls, and pretty much all of Van Homans part is amazing. The video starts with a funny intro involving some pretty intense, and wreckless, driving. The next part features "Satan" ridng a motocross bike causing hell. Then comes the excellent riding of Jason Enns. His part is great. Then we see Garret Byrnes, Kris Bennet, Pat Julif, Nate Hanson, Matt Berringer and Van Homan, in which after watching this video numerous times, has become god in my mind. Pat Julif is a big let down in this. His part just doesn't compare with the other riders. Oh, and the bails at the end of the movie, followed by credits, then with the extra footage of other Little Devil riders, including an insane Manual-Line by Wiz, is great too. All in all, this movie is amazing. The riding is by far some of the best I've ever seen. The Animal Movie, Etnies "Forward" and the Demolition Video all rival it but in my mind, don't quite make it to the top with Criminal Mischief. This movie is excellent and I give it a 9/10...just because of the thought of someone lighting their pubes on fire in the ending credits.



Clint Millar, Ride BMX US #100:

Derek Adams fulfilled everyone's expectations in this one. With such a great team of riders with some of the best video parts of all time, great music and very clean editing-this is classic for me.



Ben Snowden, Ride BMX US #100:

Criminal Mischief was an inspiring video for me. I felt the video rekindled the flame in street riding. The editing and music portrayed the lives of each rider (even though Van really listens to Asril). Van's section had so much passion and power, I think it's the best piece to date.



Brian Kachinsky, Ride BMX US #100:

Every time I put this video in it gets me psyched to ride. Van's part changed street riding forever and watching that section still puts shivers down my spine. It's the perfect combination of skill and bravery. I think every rider dreams of having a video part like that.



Van Homan, www.thecomeupboard.com, january 2008:

I put a lot of time and blood into that part and I'm really proud how the part came out. I did the best I could on the riding end and Derek did a great job on the editing. I shout out to Stew Johnson as well for suggesting the song.





Dan MC, www.streetphire.co.uk, 2005:

Well this video starts as it means to go on, its crazy. From the first few scenes with the van burning out, the car getting smashed about, the firework fights and the live band jumping you can tell this video is going to be a blast. Criminal Mischief is a blend of the CKY skateboarding series, and pure Road Fools riding. The video has a cast of stars including the infamous Van Homan, who has the longest and reputably best section on the video. One thing that astounded me first time I watched this video was how it flowed from one move to another, and one section to the next. You really do watch this all the way through without thinking whats happening.
THE MUSIC: Music in BMX videos sometimes varies, from the very good, to the very bad, the music in Criminal Mischief is very good. From the very start the tunes fit in to the riders style, some fast a furious tunes, others more mellow. Most of the tunes are your general BMX video type and all of them feel right. The intro music for some of the riders is also cool, especially Matt Berringers.
THE RIDERS: Hows this for a list…Jason Enns, Garrett Byrnes, Kris Bennett, Marvin Loetterie, Josh Stricker, Pat Juliff, Nate Hanson, Matt Beringer, Van Homan.
THE MOVES: A few moves stand out in this whole video and you find yourself rewinding just to see them again. Some of the stuff these guys do is crazy, heres just a selection of the most mental stuff…
Jason Enns- A Tailwhip to manual to feable down ledge…
Josh Stricker- A feable up a ledge which looks exacly the same as the subway just next to Sunderland bridge.
Matt Beringer- Feable UP 22 steps, Nollie to double peg down a rail, 180 Tailwhip onto a flat bank 45 out of a quarter, Backflip to disaster, Backflip onto a flat bank 45 out of a quarter and a flair on a street course.
Van Homan- Huuuge rails double peg and manual down, A house to house transfer
EXTRAS: Its now a kind of custom to add a little extra onto the end of the video and Criminal Mischief does not fail to deliver. As soon as the action as finished there is a small bails section showing some of the nastiest things I have seen in a video, there are lots of twig and giggle berries damaging bails and a few downright painful ones. After the credits theres a section devoted to riders who werent in the main part of the video and shows some more awesome riding, half the stuff in this section would make it into the main part of most videos, but not Criminal Mischief.
BEST BITS: For me the best section has to be Matt Beringers section. Some of the stuff he does is just off the hook and for that his section is my favourite. His backflip combinations are awesome and his street riding is probably the best I have ever seen. The music in this video is one of the other reasons I like it so much its top notch, a classic blend of rock, punk and older music. The setting fire to the pubes at the end of the credits is something that made me laugh, and it still does every time I see it.
WORST BIT: In my opinion the video is a tad to short, I would of liked to have seen more of some of the riders such as Nate Hanson and Marvin Loetterie and also longer on some of the better sections.
VERDICT: If you aint already got this video then id advise trying to get a copy (whether it be legal or not) because it really is a classic, and should take a place in any BMX'ers video pile…

TRACKLIST / SOUNDTRACK
Section: Artist - Title
Intro: Anti Hero's - Criminal Mischief
Jason Enns: Rolling Stones - Heartbreaker
Garrett Byrnes: T.S.O.L. - It's Grey
Kris Bennett: The Who - The Seeker
Marvin Loetterle: Black Flag - Nervous Breakdown
Josh Stricker: Joan Jett - Bad Reputation
Pat Juliff: Black Sabbath - Orchid
RadioHead - National Anthem
Nate Hanson: Led Zeppelin - Babe I'm Gonna Leave You
Matt Beringer: Kiss - I Love It Loud
Van Homan: Ozzy Osbourne - Diary Of A Madman
Crash: The Beatles - Dear Prudence
Credits: The Doors - Alabama Song
Secret: Small Brown Bike - Unsung Zero.