Editors: Glenn PP Milligan & Bian Castillo.
Time: 26:20 min VDO, DVD much longer.
Released in late 2002.

The new Demolition video was filmed around the world. It features Nate Wessel's crazy style, Mike Escamilla's best part since Dirty Deeds, Enns' best part since Little Devil, Brian Castillo killing street, and Kris Bennett's best part ever!



Jas, www.bmx-test.com:

I'll start off by giving a little background info about the video. It is made buy Demolition Parts and edited by MonkeyHateClean Productions. The featured riders are Nate Wessel, Mike Escamilla, Jason Enns, Kris Bennett, and Brian Castillo, although there are other riders in the video. The video started out with Wessel's and Rooftop's sections. Wessel's crazy transfers and Rooftop's flips and spins made for two great sections. Next came a section called Friends in which friends of Demolition were shown riding. Another section jammed pack with great riding. Next came a section called Warehouse where footage of a plethora of riders riding the Demolition wearhouse is shown. Next came Jason Enn's, Kris Bennett's, and Brian Castillo's section is shown. Jason Enn's section was not up to par with the rest of the video, but it did contain good street footage. The last two sections were the best. Kris Bennett's section was fantastic and it blew my mind. It showed incredible footage of street, dirt, and skatepark. Next came Brian Castillo's section. Brian has learned many new tricks such as a manual to tailwhip's off a banks. His section delivered riding above and beyond today's current street riding. The music in the video was not what I expected but I felt it matched the riding very well. The songs featured in the Friends and Wearhouse sections were great, and I plan to buy both those cd's. This video was great and any video watcher should definetley make this video a part of there collection. 9 out of 10.



bongo, www.bmx-test.com

: This vdeo has not been out too long in England, I'm not too sure about in the US but over here it's still pretty new. With an owner like Brian Castillo you would expect a team video to be great, and it is. Full sections include: Nate Wessel, Mike Escamilla, Jason Enns, Kris Bennet and Brian Castillo. There are also warehouse and friends sections. The intro is unbelievable and the quality is superb. It is from Monkey Hate Clean Studios (Glenn PP Milligan) and the video is put together with strong filming and editing. A range of music is used and I can't say I dislike any of it, tracks from Jimmy Eat World (don't worry its not as bad as you would think), and the Rolling Stones, I think a Slayer track is on there also but I'm not positive so don't kick my balls if I'm wrong. Overall this is one of the best videos this year. A great video from a great company. 8.5 out of 10.



Paul de Jong, www.fatbmx.com, january 2003

: DEMOLITION is a bmx parts company run by Brian Castillo and has some very good riders in the hookup team: Rooftop, Bennet, Wessel, Enns and Castillo himself. All these guys rip so you can say the riding in this "monkey hate clean" production is top quality as is the filming by one of the best in the bmx industry: Glenn PP.
Kris Bennett rules and in this Demolition film he shows the world that he is not to be stopped, Bennett is not into contests but that doesn't mean he can't ride! Nate Wessel is a bad ass and likes speed and big gaps, name it and Nate will try it or don't name it and he still is trying, Wessel is a cool guy and I hope he is not gonna hurt himself with all the crazy stuff he is trying.
Rooftop is awesome, he always was but not everyone likes him these days but he doesn't care, Rooftop is in his own world and does things that nobody is even thinking about. Jason Enns from Canada is a mellow guy but on his bike he kills everything, concrete parks are his favorites but he hits the street like a mad man too.
Brian Castillo is not only running Volume and Demolition but can ride his little bike as the rest of the team. I call this vdo the "angry men vid" with all the bike throwing parts with Bennett, Wil Taubin and Castillo it seems that the Demolition parts are not only tested by bikeriding but also with bike throwing.
The DVD has special features like the funny "audio commentary" and trips to Hawaii and Australia, together with a lost rider & additional bonus sections this make the DVD worth way more than the VDO so I say go for the Demolition DVD.

MUSIC.
Rooftop: Rolling Stones - Gimme Shelter
Friends: Archers Of Loaf - Backwash
Nate Wessel: Slayer - Post Mortem
Jason Enns: Pat Benatar - Heartbreaker
Warehouse: Dramarama - Anything, Anything
Kris Bennett: Jimy Eat World - Get It Faster
Brian Castillo - Aerosmith - Dream on
Credits: Creeper Lagoon - Chance Of A Lifetime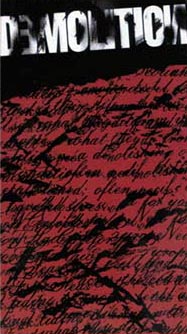 Brian Castillo part.


Mike Escamilla part.


Kris Bennett part.