Sources: Dig #4, Ride BMX UK #15, Props #5, BMX Plus! march 1995, FAT zine #31, www.fatbmx.com, ...
If you want to add any info, please contact
buissonrouge@23mag.com
.
Event: 1994 Bicycle Stunts round 4 and finals
Date: november 18-19, 1994
Place: SCRAP Chicago, Illinois.

Trevor Meyer, Brian Foster and Mark Losey are on the FAT zine #31 cover.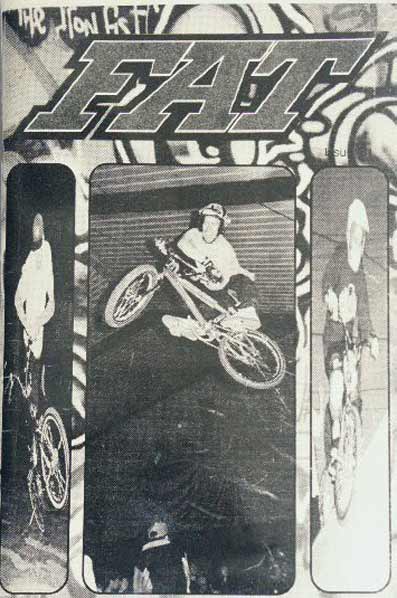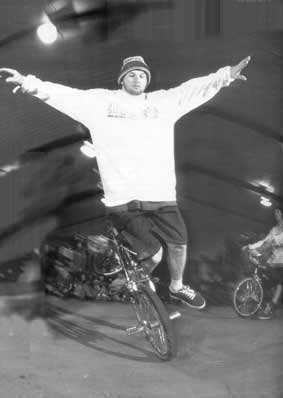 Dylan Worsley pulling a cross-footed coasting locomotives while standing on the pedal.




Doses, www.vimeo.com, february 2012:

One of the most fun times I have had at a contest. We road tripped up to Chicago in a van with Jim Dellavalle, Lionel Cardoso, Brian Tunney, Mike Wilson, Rodney Morweiser, Tim Mills, Adam Guild (me) and a few others I can't recall. This was the trip where the word Doses was used in connection with riding. That was one crazy time I will never forget.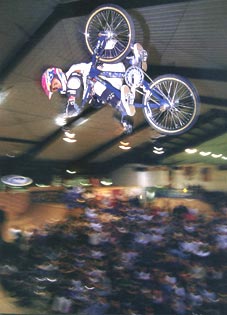 There was a new Stunt Boy vert ruler in Chicago this year and he went by the name of Eduardo Tererros. After coming all the way to the Finals from Spain, Eduardo completely ruled Stunt Boy vert and afterwards had plenty of companies offering him sponsorships. This guy is a superstar in the making.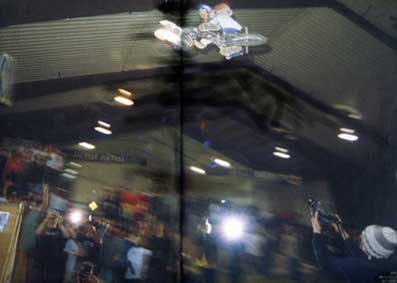 A new star is born. Colin Winkleman brought the stunts back into the bicycle stunts series in a very big way. Photo by Chris Hallman.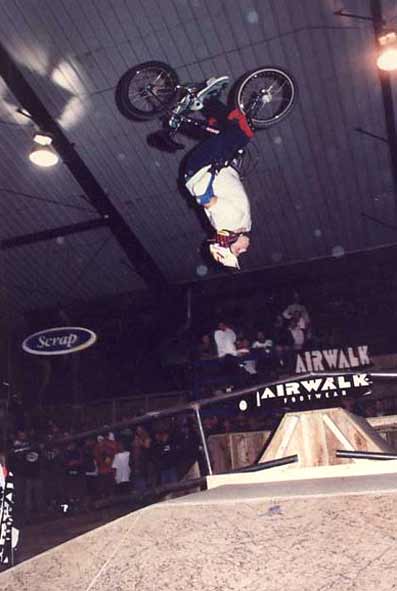 Todd Lyons.
FLATLAND
BMX Plus! march 1995:

The weather wasn't too bad outside this year in Chicago, so a lot of flatlanders decided to practice outdoors while waiting for their runs.
Nate Hanson took home a well-deserved first place in Stunt Boy Flatland and he won the year-end title as well. Will Nate be riding as a Pro next year? All of the Stunt Boys are hoping so...
The riding that went on during the Stunt Men flatland qualifiers was probably the best display of ground riding that ever went down at a contest. With 16 Pros on hand and only eight spots open for the Finals (and with a $1600 purse on the line), every rider was completely going off. Out of the eight guys who made the cut the top three went like this. Chad DeGroot took home first place with the most original run this side of Kevin Jones. He did an amazing hitchhiker to backpacker combo by stepping on the bars like a dark side and pulling the back fire around behind him. Unreal. Second went to Trevor Meyer -who is probably still spinning and linking a combo as you read this- and third went to Day Smith.
Had Day Smith ridden in the Finals like he did in practice and qualifying, he could have stolen the show. He jumps from a cross-footed hitchhiker into a regular one with no problems at all.
Two other standouts in Pro flat were Paul Osicka and Dylan Worsley. Paul was actually seen pulling pinky squeaks going forwards while switching his feet on the rear pegs instead of the frame. Dylan was pulling switch-footed coasting locomotives while standing on the pedal (?) as well as G-turning cliffhangers. Expect to hear a lot more about these two guys in the future.

STUNTMEN FLAT: 1.Chad Degroot 2.Trevor Meyer 3.Day Smith 4.Paul Osicka 5.Steve Roy 6.Andrew Arroyo 7.Dylan Worsley 8.Scott Powell

STUNTBOYS FLAT: 1.Nate Hanson 2.Bobby Fisher 3.Matt Gibson 4.Sean Peters 5.Eddie Egawa 6.Thomas Fritscher 7.Brian Tuney 8.Don Slepski
VERT
BMX Plus! march 1995:

All year long the level of riding in the vert classes has been getting better and better and the riding that went down at the Finals had every spectator in the building screaming at the top of his lungs. Stunt Boy Vert wound up being dominated by a rider most people had never even heard of before. Eduardo Terreros made the trip to the Finals all the way from Spain and was riding so well that he probably would have placed well with the Pros. Eduardo was blasting 11-foot airs with big variations on his way to first place in front of Chicago's Jimmy Walker. Seiji Saito came all the way to the Finals from Japan and earned much respect as he took fourth place in Stunt Boy vert. Rumor had it that it cost Seiji and the rest of the Japanese riders $1800 each just to get to the contest Keep that in mind the next time you think spending $50 on gas to get to a comp is too much.

The last class of the weekend to ride was Stunt Men Vert and it was looking to be one crazy battle. Matt Hoffman was going a good 12 feet above the lip on every air, but a few crashes in his run kept him in second. Dave Mirra was going as high as he usually does on vert around 11 feet), but some of his runs lacked variations, which brought him in at third. John Parker placed right behind Mirra with big airs and actually looked like he was having fun at a contest for a change. He didn't seem too bummed with his fourth-place finish. Dennis McCoy took fifth, but he also pulled one of the freshest new vert moves of the year-lookdown to halfbarspin Sick. So who won? Without a doubt, Jay Miron absolutely ruled in Stunt Men Vert. The crowd was getting so loud during Jay's run that it sounded more like a football game than a freestyle contest. Jay was flowing like usual as he busted ten-foot airs (the highest we have ever seen him go) and he threw in just about every trick there is along the way. During one run, Jay did a 540 about eight feet out on one side of the ramp, landed totally smooth and then pumped a bar-spin 540 at about eight feet on the other side of the ramp! That was only the tip of the iceberg, though, as Jay went on to win the contest and the year-end vert title.
In our opinion, the best vert trick was the invert that Matt Hoffman did during practice at 13-14 feet was by far the best vert trick, but Dennis McCoy's lookdown to half-bar-spin and Jay Miron's flowing 540s would be a close tie for second.

STUNTMEN VERT: 1.Jay Miron 2.Matt Hoffman 3.Dave Mirra 4.John Parker 5.Dennis McCoy 6.Steve Swope 7.Rick Thorne

STUNTBOYS VERT: 1.Eduardo Terreros 2-Jim Walker 3-Rob Sigaty 4-Seiji Saito 5-Dave Brumlow 6-Mike Ocoboc 7-Mark Owen 8-Adam Banton
STREET
BMX Plus! march 1995:

When people think about the B.S. Finals, the main thing on everyone's mind is street. The Finals are known for having the best street course of the year, so if there is a burly trick to be pulled, it gets pulled in Chicago. Canada's Dave Osato pulled nosepick to full barspin on an eight foot quarter. Last year's Stunt Boy winner Todd Lyons had to settle for second this year behind a raging Stuart King. If Stuart keeps coming over from England for every contest next year, he could easily walk away with a year-end title.
During Stunt Boy street, one rider thought it would be cool to take all of his clothes off and run around the street course.This little stunt almost got the contest closed down for the rest of the weekend. Not too smart.
This was the third year in a row that the Finals have been held in Chicago and it was also the third year in a row that Dave Mirra took the win in Stunt Men Street. By watching Dave ride in practice, you could tell that there was no way he was going to let anyone beat him. Mirra lofted huge transfers, pulled a flip twist, went for a tailwhip flip, carved a tailwhip air about seven feet up and 5 feet across between two street ramps and wasted two wheels on his way to first place. Jody Donnely went for a superman flip over the box and wound up riding away with his stomach on the seat and his feet in the air.

Taj Mihelich downside tailwhip from the jump box over the spine and railing.

STUNTMEN STREET: 1-Dave Mirra 2-Jay Miron 3-Dennis McCoy 4-Matt Hoffman 5-Taj Mihelich 6-Bob Kohl 7-Rick Thorne 8-Steve Swope

STUNTBOYS STREET: 1.Stuart King 2.Todd Lyons 3.Colin Winkleman 4.Rob Sigaty 5.Jim Walker 6.Ed Koenning 7.George Smoot 8.Dave Osato
MINI RAMP
BMX Plus! march 1995:

There are not too many people who really like the mini ramp at the SCRAP skatepark, but that didn't stop anyone from going off this year. In Stunt Boy, Colin Winkleman took first by going extremely big over the spine and riding about as aggressively as you can get (spine 360 air about six feet over the spine). Mike Ocoboc used the spine for a jump box in his last run and pulled all of his jumps over it (including a superman seat-grab and a full-barspin to half-barspin the other way) in exchange for second. Dave Friemuth took third with a 360 nosepick over the spine to clean half-barspin on the way in.
There were only four riders entered in Stunt Men Mini (Jay Miron, Rick Thorne, Krt Schmidt and Dennis McCoy) and the main battle was between Jay and Dennis. Both of these guys hit great tricks, including spine flips, but Jay was on a rampage and could not be stopped. First place and $400 for the "Canadian Beast." Jay Miron was not to be stopped in mini ramp at the Finals. Big double-bar spin over the spine was only one of the tricks he took to the mini ramp win. Bonus info; During mini practice, Jay nearly pulled a feeble grind to G-string on the deck. The Leader of the New School indeed. During Pro mini practice, Krt Schmidt was doing 180s over the spine, rolling backwards and pulling nosepicks-to-fakies on the opposite transition. Kit probably would have placed better in the contest if he wouldn't have spent one of his runs throwing up beside the ramp.

STUNTMEN MINI RAMP: 1.Jay Miron 2.Dennis McCoy 3.Rick Thorne 4.Krt Schmidt

STUNTBOYS MINI: 1.Colin Winkleman 2.Mike Ocoboc 3.Dave Freimuth 4.Sandy Carson
SATURDAY NIGHT
BMX Plus! march 1995:

After the contest ended on Saturday night, one rider hopped into a police car that was left running and proceeded to take it for a spin. He is now eating bread and drinking water somewhere in Chicago. Behind bars.


Todd Lyons journal 1994:

At night, we all drank at the hotel and then went to a bar called "Durty Nelly's." It was packed. Later we started moshin' and steam rolling on the dance floor & acting silly. Some people got kicked out. Then when we were leaving, a bouncer wouldn't let a guy go. So me and some others were pulling on the guy & punching the bouncer. Then the cops ran up and a Canadian BMX guy jumped in the cop's car and started rev'in it up. Then he put it in gear and took of with a cop hangin on to the back of it. The cop tried to hang on, but flew off! We all saw it and ran to our cars & jumped in. Reuben Castillo & I jumped in the trunk & Mirra drove a bunch of us back. We got back to our hotel and talked about the craziness that we witnessed. That Canadian guy got arrested.


Todd Lyons 2007:

The bouncers would not let one of the BMX guys go and at the same time, the cops pulled up and were running up to help. So Darcy (current product manager at MacNeil) figured he would "distract" the cops. So he jumped in an empty cop car and started revvin' it up. Well, it worked. Because the cops turned around and ran straight to the car. But right when a cop was diving into the car, he dropped it into gear! The cop hung on for a bit, but eventually flew off when Darcy was tearing across the parking lot. He drove about 100 yards & then stopped & every other cop in vicinity ran after him and jumped on him and arrested him. It was SO crazy! We were all watching in disbelief. Oh, and his plan did work because the guy who the bouncers were holding did get away. After about 2 seconds after the cop car incident, we all jetted out of there as fast as we possibly could. I think there were about 10 people in my rental car, so that's why Reuben Castillo and I dove into the trunk. We just wanted the heck out of there!
OVERALL
BMX Plus! march 1995:

After all of the points were tabulated, Dennis McCoy walked away with the year-end Overall Pro title for the ninth year in a row, If DMC can hang on for one more year, he will have actually achieved a decade of domination. There is only one thing that stands in Dennis' way now and he goes by the name of Jay Miron. Will Dennis be able to hold on or will Jay take over? Stay tuned.