Made in 1985 by Trends In Professional Sound And Video Dimensions.

Features riders Ron Wilkerson, Mike Buff, Rich Sigur, Scott Freeman, Scott McCloud, Robert Peterson, David Nourie, Martin Aparijo, Brian Scura, John "Dizz" Hicks and Brian Blyther.

BMX Plus magazine was releasing "how to" videos for flatland and air riders. This was the 1st installment in the series.BMX Plus Old School Freestyles Raddest Tricks Video 1985 VHS.



cmccormick, www.ebay.com, january 2003

: In case you need to learn how to do an endo or hop on your axle pegs, this is the tape for you! Brian Scura in his goofy tuxedo shirt, Martin Aparijo, little Scotty Freeman of Skyway, Wilkerson, Blyther and all of those other rad 80's guys show you how to surf and do balance tricks, which I'm sure will be back in a few years when we all get tired of double backflip tailwhips.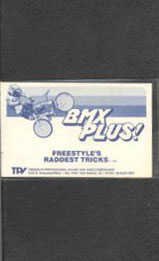 This is a video from 1986 that was made by BMX Plus magazine. It is an instructional video that will guide you through the basics of basic BMX Freestyle. This was the 2nd installment in the series. Included are tips on flatland and ramp tricks... All are taught by the pros of 1986! VHS format, color, and runs approx. 30 minutes.



Ad in BMX Plus! january 1991:

You won't believe your eyes! The wildest tricks, the hottest riders and the most intense images make "RAD TV The Sequel" the most outrageous video ever! You'll get from ground to ramp to pipe -with "radness ratings'' to help you do tricks that fit your own skill level. With inside advice from the experts and step-by-step instructions from the editors of BMX Plus!, you'll be pulling moves just like the pros!



Scott Towne, www.vintagebmx.com, january 2007:

(...) I hope no one realizes that it's me rapping at the beginning of the Rad TV video.





Krt Schmidt, krtschmidt.com, june 2007:

It's rare that I ever broke a tape or wore it out from watching it so much but RADTV The Sequel was one of them. There is so much great stuff in this. They actually attempt to "rate" tricks that people do but some of the tricks are so random you have to wonder what the point is. For example, they rate the "Ejection Seat Flyaway" which is just so weird and random you have to wonder why they put in in let alone rate it. And seeing McGoo expressing "Freestyle happens wherever you find bodies and bikes." is classic. They also say that Eddie Fiola is 5'4 and 125lbs!! But whatever, I could go on and on. it's still a lot of fun to watch and the caliber of tricks is top-shelf compared to some of the videos of the day. Enjoy!!



RIDERS.
Martin Aparijo, Fred Blood, Jeff Carroll, Steve Broderson, Mike Dominguez, Eddie Fiola, Franck Garrido, Trevor Hernandez, Dizz Hicks, Woody Itson, Bob Lepera, Ceppie Maes, Marc McGlynn, Maurice Meyer, Dale Perez, Tim Rogers, Eddie Roman, Pat Romano, Brian Scura, Rich Sigur, Rob Thring, Randy Tischmann, Fred Uhrmann, Dave Vanderspek, Josh White, Ron Wilkerson.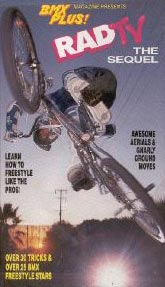 Produced by the US magazine BMX Plus! in 1986.
Running time: 40 minutes.
Riders: Mat Hoffman, Dennis McCoy, Marty Schlesinger,...

101 Freestlye tricks gives you a basic run-through on how to perform 101 different freestyle tricks.This was the 3rd installment in the how to series.
A book is included in the package. It shows how to learn the tricks step by step. Tricks included are decade, 540 air, gripride, backyard, ...



Dig BMX, 2013

: Featuring a very young flatlanding Mat(t) Hoffman. Wilkerson has trick 101… a nothing air.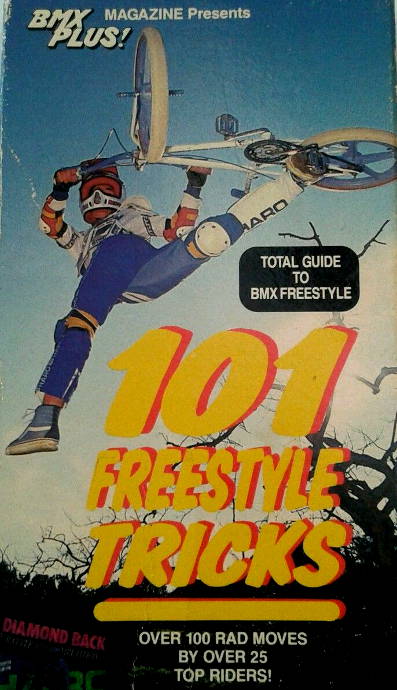 Released in 1988.
An instruction book is included in the package.



Jason a. Davis, www.notfreestylin.com, 2002

: 101 Freestyle Tricks and its sequel 101 Freestyle Tricks Part 2 were videos put out by BMX PLUS. As is that wasn't enough for you to make you cringe, it came with a booklet with the worst ever explanations on tricks. No Footer- 1. Take off from jump 2. Remove feet from pedals. 3. Return feet to pedals before landing. The bar was set really low as far as quality of How To videos.



Chad Johnston, december 2007:

Marc McKee and I were scheduled to shoot on the same day so he picked me up in Bakersfield, on his way from San Francisco. We arrived at the Enchanted Ramp in Escondido and met with the crew. It was crazy because there were so many riders there, it seemed like everyone who had appeared in BMX Plus! magazine was in attendance. I was a no-name, up and coming rider and was stoked to be included with the best. When Marc and I were getting ready to film I knew what tricks I wanted to do, they were combos that I hadn't named. When I was asked the name of the trick, I said it was a Rivet to Ant Rider combo. I guess that wasn't good enough, so we began to think of something more creative. Eventually the "Ant Trap" was chosen but, unfortunately due to my poor communication skills "Ant Rack" was printed. Oh well, it reminds me of Anthrax which I was listening to alot back then. Jeff Gregory usually named my originals, but wasn't around for this shoot. Videos were a big deal back then, cameras and equipment were so expensive that it was uncommon to have access. There were only a few videos out at the time, compared to now, where it seems everyone that has a camera makes a video. Being behind the scenes of that production really inspired me to create my own videos. Around that time some of the local riders and I were doing demos under the name "The inTRIKat freestyle team" I came up with the name so when the team dismembered, I transfered the name to my underground production company. inTRIKat video productions was established in 1988, nearly 20 years ago.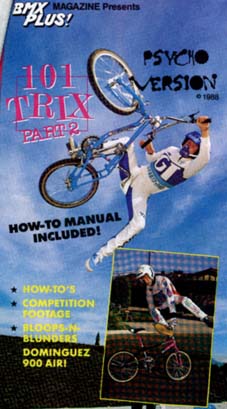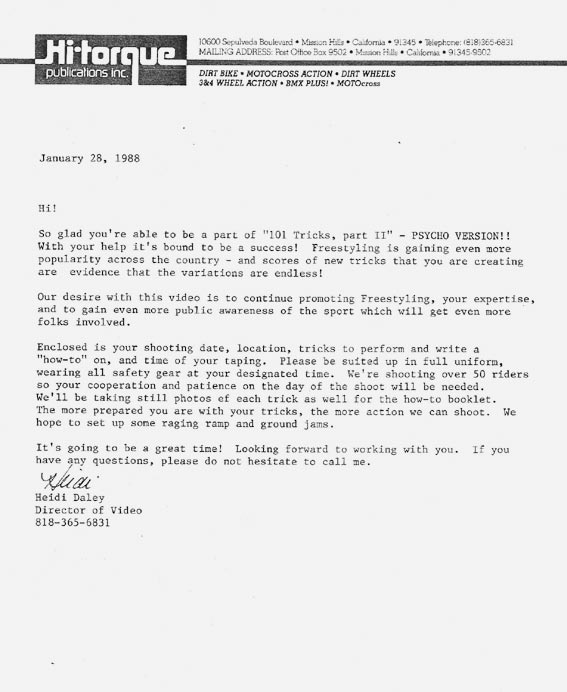 Hi-Torque Publications Letter to Chad Johnston.