1985
BMX Plus! march 1985:

This wasn't just any performance. It was the debut of the newest member of the Hutch team, Jose Yanez, 25, of Phoenix, Arizona.Woody Itson and Mike Dominguez were the stars of the Hutch team,but Yanez was present for his first show. After Woody dazzled the crowd with his ground tricks and Dominguez awed the group with his aerials, Hutch brought out Yanez for the finale. Yanez had only one trick,but it was a killer. The crowd moved back to give him a clear approach to a narrow takeoff ramp about five feet high and a wide landing ramp about six feet high. Jose came tearing across the floor at full speed and hit the first ramp. As he soared into the air, he pulled back on his handlebars of his Hutch, and as the crowd gasped in amazement, he and his bike completed a full back flip in the air, came down to a save landing on the second ramp, and rode away. There was no doubt about it, Jose Yanez had succesfully completed the greatest freestyle trick ever attempted.



Mat Hoffman, The Ride of my Life, 2002:

The first guy in the sport to pull a backflip was a cat named Jose Yanez. He used toe clips to keep his feet attached to the pedals, and then did the trick ramp to ramp. For his skill, Jose scored a steady gig with the circus.





Bill Auvenshine, august 2004:

I was one of Jose's best friends and worked construction with him side by side....we partied together,....we picked up the babes...together....and we even had the same enemies. Jose has ALWAYS been a way over the top kind of guy. He not only has the daring to do outrageous tricks, (and I've seen him do plenty that has nothing to do with bikes) but also possesses the confidence that he has the extraordinary ability to accomplish what he set out to do.
He and I were still partners when he first thought to try a back flip (Jose was a gymnast so backflips were mundane to him) on a light motorcycle. He missed a few times before getting the idea to do it on a bike... That's when he left Pagosa and went back to Phoenix. I saw him a couple of times after he had been in the circus, the movie. He was still the same Jose that I had always known.. His ego was as big as ever. I mean that in a good way. I believe it was Jose's ego that helped push him to do difficult stunts. He wanted attention and was willing to use his brawn and brain to get it. Our paths have seem to separate over the years. He still is in Phoenix save when he visits Pagosa and family during the summer. If anybody out there still see's him out there these days just tell him you read about him from one of his best friends... just tell him you read a letter from his good friend and tell him, that "Billy Bad Ass" says hello...



BMX Action march 1985:

It was amazing. As soon as we walked into the huge building that housed the ABA Grandnationals, we started hearing comments like, "I can't do what he does, but he can't do a one-foot tabletop, either. (Timmy Judge.) Definitely the raddest jump I've ever seen." (Michael Dominguez.) "He's one of a kind He carries his (BEEPS) in a wheelbarrow. When I saw him two months ago in Arizona, my jaw hit the ground. I've still got the scars to prove it." (Mike Miranda.) The cause of all this commotion among dudes who are A-1 Certified Radsters themselves? Jose D. Yanez, a dude who does complete ramp-to-ramp loops on his bike! We're talking a complete loop-out that he rides away from!


Jose Yanez, BMX Action march 1985:

About seven months ago I went down to Salt River in Phoenix - it's a big ol' river where everybody goes and parties down. I had the idea of bringing a ramp and jumping my bike into the river. Pretty soon I began thinkin' that it'd be neat to do a flip on my bike."
One day the ABA called and asked me if I could jump some water beds for a promotion. I told them, 'if you build me the ramp, I'll do a flip for you.' So one day I went over there and there it was - they'd built it. I had no choice 'cause they'd gone to a bunch of trouble and expense. I had them get me a whole bunch of safety gear; I had pads sticking out everywhere - I mean I was padded out.
The first time, I said, 'YEAH, I did it!,' even though my feet slipped off the pedals, 'cause I didn't crash and I didn't kill myself.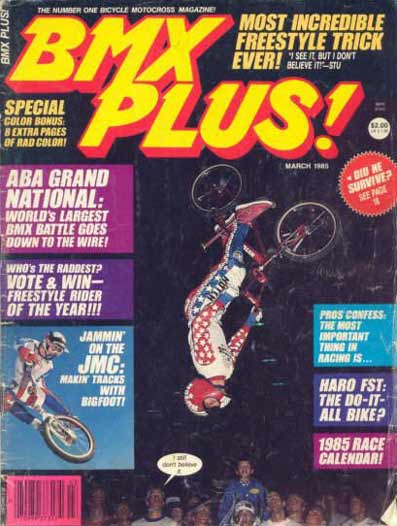 BMX Plus! march 1985 cover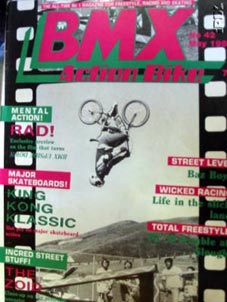 Jose Yanez
BMX Action Bike #42 may 1986
1992
TAILWHIP BACKFLIP


Mat Hoffman, BMX Now issue 4 Xmas 1992:

I've tried it a few times, I haven't got my feet back on it yet though. When You kick the frame you have to kick it totally hard to overcome the centrifugal force. That's the only tricky part about it. I feel like I flip it late. It's a totally possible trick.
2008
FatTony, www.ridebmx.com, August 18th, 2008:

Anthony Napolitan tried to do a triple whip flip over the 50-foot jump during Big Air at X Games a few weeks ago and just this week he actually landed one on the resi ramp at Woodward.