Brian Chapman, www.ewirezine.com:

Contests can be fun if you're not competitive. Or contests can be fun if you're competitive and really good. I've always thought of myself as a competitive person. I always want to be the best at what I do but I was humbled in New York. I saw what the other riders were doing and I felt like I was 10 years old again watching the pros do a show at my local bike shop. The nerves really set in when I realized that I'd be competing against these people. To remedy my nerves, I tried to focus less on the competition and more on just hanging out with friends. I was in Niagara Falls, I drove a long way, and I was going to have fun. The flatland competition was to begin on Friday morning but was postponed because of torrential downpours. After the thunder and lightning passed, all the riders sat around under gray skies staring at the riding area with hopes of telepathically removing the water from the asphalt. The surface was ready to ride by around 11 but it was short lived as another round of showers came through. The contest finally began around 2 or 3 and went until 8 when the light became scarce. The Stuntboy class (aptly renamed Stuntperson class on the fly as two females entered) consisted of 31 riders of varying skill. As usual, some of the riders in the expert class could have held their own in the pro class. One of those riders, Manuel Prado, rode exceptionally well with a smooth one kick flowing style. Southrider Scott O'Brien and Atlanta local John Dowker also hit a lot of their better tricks scoring second and third respectively. Other notable riders in the class were Dave Petrin spinning around Chicago style, Matt St. Gelais landing almost all of his tricks in his first run, and Erin Donato coasting and landing a real long forward karl kruzer on the pedal.
The Stuntman class was also packed with 28 riders total. The most impressive and exciting of all the competitors was Brazil's Marcos Jesus. I had heard stories about him but I never imagined what I saw. He would ride at full speed, do a death truck, turbine it a couple times, and then step out with a full bar spin. He didn't just use this speed on the back wheel either; he managed to flip back and forth at mach one hopping between cross-footed steamrollers and cross-footed karl kruzers too. York Uno is on a roll this year getting in the top ten in every contest he enters. This time was no different with a near flawless run of his signature tomahawk front wheel spinning tricks. Matt Wilhelm had the most incredible second run of the day. It was flawless and he hit some crazy links including his signature blender to upside-down megaspin on the pedals. There was no question he was psyched about that run. Ed Nussbaum can flow on his front wheel forever. Jeff Desroche has the biggest jump string I've ever seen. Jumping from one side of the bike and landing in a cross footed one-handed steamboat on the other. I can only imagine what happens if he misses that front peg. Terry Adams jumps around on his front wheel like it's a trampoline. Kotaro Tanaka can decade or pegade out of anything including a forward deathtruck to manual on the pedals to pegade. Sean McKinney came out of retirement to compete. He did some crazy hang-5 strings in practice but unfortunately it just didn't come together in his run. Scott Powell hit his upside-down megaspin to upside-down decade cleanly in his first run. Nathan Penonzek is redefining the stubble duck. I can't even describe it so I won't even try.
As a final note, I have to say thanks to the Kadmiri's for taking me out to eat in Canada and letting me stay the night with them. Thanks also to all the riders who went there just to have fun. That includes almost everyone but especially the Hamilton, Ontario riders. Those guys know what freestyle is all about — riding your bike and hanging out with friends.



Mike Vincent, www.hsacentral.com:

Welcome to Round 2 .CFB in Wheatfield, NY, where the weather seems to change every 5 minutes. Some wet weather and lack of sunlight pushed Flat finals back a day, but Flat finals finally happened on Saturday, June 1, and went down like this:
Tenth place went to Jeff Desroche.
Ninth place went to a disappointed Scott Powell, who .minutes before .experienced a tire blowout, forcing him to ride a borrowed wheel.
Eighth place went to Hiroya Morizake with lots of good original tricks, but too many touches to place higher.
Seventh went to Jesus Marcos. This Jesus can't walk on water, but he can turbine death truck on the pavement !
Sixth place went to Ed Nussbaum, who delivered lots of crazy frontwheel switches.
Fifth went to Terry Adams who was growing a new hairdo while pedalling a death truck.
Fourth went to York Uno with an almost flawless run full of hitchhiker combos.
Third went to Kotara Tanaka with a run full of backwheel tricks.
Second place went to world traveler Nathan Penonzek who had a flawless first run.
First place went to Mat Willhelm. Mat tried to "spin it to win it" with two identical, flawless runs.
That wraps up Flatland for this week. Go home and learn some new tricks and we'll see you at the next one.

PRO FLAT: 1 Matt Wilhelm 2 Nathan Penonzek 3 Kotara Tanaka 4 York Uno 5 Terry Adams 6 Ed Nussbaum 7 Marcos Jesus 8 Hiroya Morizake 9 Scott Powell 10 Jeff Desroche

AM FLAT: 1 Manuel Prado 2 Scott O'Brien 3 Jon Dowker 4 Dave Petrin 5 Erin Donato 6 T.J. Perry 7 Chad Carpenter 8 Matt St. Gelais 9 Johnny Buckley 10 Mike Smith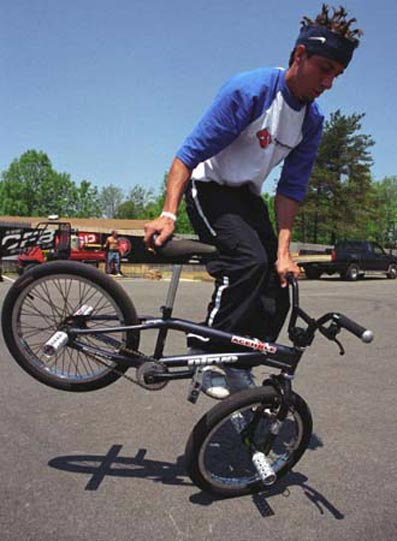 Terry Adams jumping around the front wheel. Photo by Brian Chapman.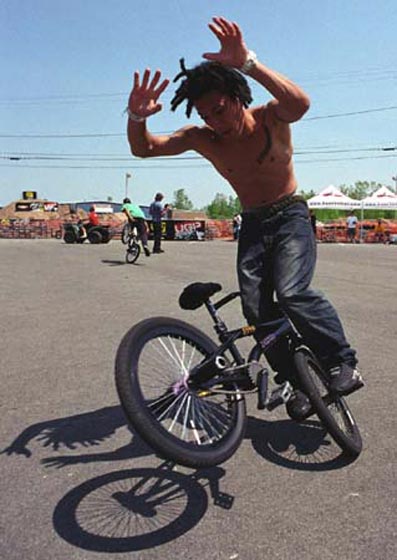 Things like this really shouldn't be possible. York Uno spinning sans hands. Photo by Brian Chapman.