Jeff R., october 2010:

I just got about 4 hours of footage of flatland runs from this comp:
The 13 year old on the pink bike doing the reverse hand scuff nose wheelie wtf ?!
Carly Garcia just ripped apart the 13 under class in the qualifiers & finals. Greg Macomber was very very good for his age too, but Carly unleashed in the finals.
Dave Fox got ripped off not being top 3, he had some fairly original stuff, hard stuff, and he was smooth.
Dave Mirra came out riding like Dennis McCoy jr. and killed it, then did it again in the finals, triple whiplash, lots of fast moves and even some combos.
Derek Schott had front brake/wheel issues and quit his run midway through ?
Tommy Walker ? Perverted rolaid, and candybar rolaid, 15 expert class I think.
Ian Clemens had some odd and original moves, almost too weird to describe, but let's just say I'm surprised he was never really heard from again considering the stuff he was doing.
Todd Carter did that weird unpossible standing up no-handed backwards infinity roll K. Jones style.
I watched Jeff Rugg win the pro class in Boise, ID in 89'....Apparently he practiced, a LOT, in a year, he didn't even qualify here from what I saw, but props to him for having an amazing comeback just about 12 months later eh.
Really confusing that every other rider insisted on wearing a full factory uniform, when most of them would've been lucky to get 'sponsored' by a local pet store.
Bill Neuman was smooth as ever, and did the pedalling pedal picker in his finals run, along with a double x-footed whiplash attempt that I bet even Ross Smith raised an eyebrow at. No idea how Bill failed to make top 3, other than there were a TON of riders in the 16 expert class, which is the one I think he rode in.
Craig LePage had a good if somewhat unremarkable run (to be fair I didn't get to see his finals run though, just the qualifier).
Ruben Castillo rode with speed and style to clinch 2nd place, although I havta say, Ryuji Hora probably should've gotten that silver medal if not the gold, he about caused a riot ha-ha. No surfer G-turn, but he pulled a macaroni to decade over/out in one of his runs, multiple whiplashes, double g-strings, and just flowed like no one else his age.
Some no-namer 17 expert basically pulled a steamroller type bar ride, I've only seen maybe 3-4 of those ever actually rolled for 10+ feet.
Huddleston looked like he hadn't ridden since the Texas comp, still fast, but looking rusty and with nothing new.
Joe Gruttola had the spinning scuff tricks down, even double whiplashing into a spastic freak squeak, as well as doing multiple freaksqueak/funky chicken whips.
Ross Smith definitely out-rode Gary Pollack, but the judges put them in 3rd and 2nd and not the way I saw it. Ross touched a few times, but he hit triple whiplashes, a trolley, some long forward combos, and a backwards facing fire hydrant to backwards decade. Gary had solid runs, but nothing original, or nearly as hard as Ross's stuff.
By the middle of the 18 expert class, no one had even tried a double decade yet that I saw. Apparently times had change that much by then.
Darren Pelio rode fast & smooth, as is usual for him, although he didn't blow me away, he definitely deserved a top 3 placing and he actually won the 18 expert class.
Was that Dave Voelker riding flat on the Dyno in 19+ expert ?! A pretty high energy run, while not the most difficult tricks, a real showman whoever it was.
Whoever rode right after (Voelker or the Voelker look-a-like) was pretty good for the time, the kind of switch footed caboose deal and hang 5 to spinning freaksqueak to funky chicken type moves. Haro jersey on, but looked like a Kuwahara frame maybe.
Mark Eaton didn't land his backwards facing whiplash, but he had a fairly solid run with some interesting stuff thrown in. And I saw a couple other Plywood Hoods there (Huddleston & Mitzel for sure) so why didn't Kevin make it ??
Robert Castillo had a solid run, his trolley comes to mind, and a double whiplash if I recall.
Rick Upjohn came out swinging and rocked the house with full crowd support, he definitely deserved at least 3rd if not 2nd place.
Dennis Langlois did pull a double whiplash in his run, but that was darn near it.
Woody Itson rode pretty well, even throwing in a few modern forward rolling tricks, and a hand-slapping-with-the-crowd barspinning backyard.
Chris Lashua was somewhat entertaining, putting a few of his own twists on some of the rolling tricks that had been done to death normal-style by that point in the day.
Dennis McCoy of course rode like a bat out of hell, pulling 90% of what he tried, and linking the rolling tricks as well if not faster than the top experts. It wasn't even close, McCoy could've stopped 1/2 way through his run and still probably won this one.
Random notes : The crowd went crazy for macaronis, foward rope-a-ronis, multiple g-strings, trolleys, and especially, dumptrucks. Only a handful of riders even attemtped let alone pulled those moves that day, but the bleachers started shaking and people screamed themselves hoarse when someone did. And sorry to any riders I missed/didn't recognize, especially ones who placed top 3, it was nearly impossible to hear the names in some cases, or often times they got cut off, and I didn't know every rider who ever entered an AFA comp ha-ha.



?:

Greg Macomber from Mass was a small 11 or 12 year old at the time and this was his first comp on a 20" Hutch, muscling it for all he was worth. It was a tough transition for him.
Sean Rogers was maybe four years old. This dude had the Last Bite page in Freestylin with a pic and his resume. His Hutch had a custom 'peg' built into the downtube to do his 'signature trick'; it folded flush with the tubing like a '87 Haro forkpeg. Hidden, with an extra decal. Pretty impressive that he's even riding sans training wheels.
Eric Evans from Texas was riding his Revcore Pit; he was factory. He was 8 or 9 and actually did bar rides and a very nice 'new' hard trick in his run: Whiplash. He was just starting to get too big for the 16".

Pro flatland: 1.Dennis McCoy 2.Chris Lashua 3.Woody Itson 4.Dennis Langlais

19 and over expert flatland: 1.Mark Roldan 2.John O'Toole 3.Robert Castillo

18 expert flatland: 1.Darren Pelio 2.Karl Elsas 3.James McGraw

17 expert flatland: 1.Joe Gruttola 2.Gary Pollack 3.Ross Smith

16 expert flatland: 1.Craig LePage 2.Ruben Castillo 3.Ryuji Hora

15 expert flatland: 1.Eric Grel 2.Tommy Simpson 3.Mark Teo

14 expert flatland: 1.Dave Mirra 2.Jamie West 3.John Eckstein

13 and under expert flatland: 1.Gregg Macomber 2.Carly Garcia 3.Brian Miller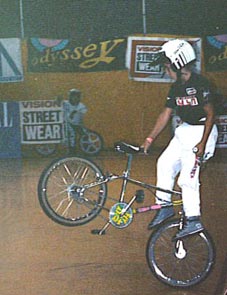 Greg Macomber




missOneday333, www.youtube.com, august 2010:

Ian Clemens outta Harleysville, PA, flatland innovator, truly unknown to this day, years ahead of his time, it's criminal that this run is pretty much the only footage i have of him after countless hours and sessions of riding with him.




missOneday333, www.youtube.com, august 2010:

Ross Smith's qualifying run from Wayne August 27, 1988.




missOneday333, www.youtube.com, august 2010:

Jay Jones's qualifying run from Wayne Aug. 27 1988.




missOneday333, www.youtube.com, august 2010:

Dennis McCoy's Pro flatland run from Wayne with a quick cameo of the infamous Ian Clemens in the stands August 27, 1988. The double backwards half-lash to? funky chicken was sick.




missOneday333, www.youtube.com, august 2010:

Some never before seen footage from the practice area of the 1988 Wayne, NJ masters contest. Large Ray rapping about Dennis then McCoy busting back on Large Ray. Ice Money lookin like Ice Money...