2003
In March 2003 Martti Kuoppa and Jorge Gomez met up in Malaga (Spain) to practice flatland together. While taking a lunch break at the beach the very first idea joining together as a company came up. And the most obvious name for the company was "Kuoppa Gomez Bikes", KGB. Within 2 minutes both, Kuoppa and Gomez have made the decision about founding KGB and to leave their current bike sponsors.


Martti Kuoppa, www.agoride.com, april 2003:

Neither one of us was not very happy with the flatland industry. Then I have experienced the bad site of the industry so many times, many smiling people around me trying to take advantage of me and all the things that I have accomblished with hard work. Those people who used me also took my motivation to ride away, too many empty promises in my history had made my decision with KGB very easy. So basically I just got sick of arrogant people and started doing my own thing with my friend Viki. Over 5 to 6 years I have experienced the people in this industry trying to find different ways to get me to represent for their companies for nothing basically. So from now no one is going to act nice to me in this industry because they want to use me, it's not going to happen. I use myself if there is a person who is using me! The strongest point was that we want to change with this company is the image of flatland to people who don't understand flatland.



And where the product is made?
They're made in Taiwan, just the fact that Taiwaneese manufactures are making equal that USA and if not better quality for better price than USA. So that is the best place to produce frames and parts. I wasn't even thinking US in the first place because I've seen their quality too and nothing special...

KGB stands for Kuoppa Gomez Bikes.


Martti Kuoppa, www.agoride.com, april 2003:

That was the most obvious name when paying attention of our last names Kuoppa/Gomez.




KGB handlebar
The mesurments of the bar will be in two sizes ; the larger one is going to be 7.3" and the smaller one will be 6.5" . I'll be riding on the taller bar. But I can't speak a lot about the frame is secret for time...


Next step was to figure out the frame design, and lots of other questions had to be solved as well. Like who is going to produce it, where and when. A month later Gomez and his friend Felix came up with the design of a new kind of flatland frame, which would allow easier movement around the bike, thus Psychonnecta design was born.
2,55 kg, Top tube: 19", Angle direction: 73.5°, Longueur arrière: 12.8", Matériau: 4130 cr-mo, Pédalier: euro ou classique, Made in: Taiwan.


Martti, www.agoride.com, september 2003:

We are very happy about the outlook of the frame, but we changed things up little bit and now we are waiting for the next prototype. I would say that the bent toptube, just makes it a lot easier to do cross footed stuff and jump/step over the frame.




Viki, www.agoride.com, september 2003:

This frame is taking KGB to another level of riding...the level that make KGB the best team in the world...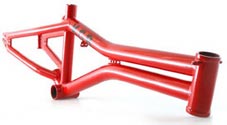 2004
Le cadre KGB Psychonnecta est disponible en avril en 18.5, 19 et 20 ", coloris: bleu electric, rouge ferrari, vert neon et argent, boitier euro ou us, 2,3 kg, 385 euros.
Guidon KGB target disponible en 6.5 ou 7.3 ", en noir à 99 euros

2005
KGB press release january 2005:

Alex Jumelin has joined the KGB team. First talking about Alex joining KGB was done earlier 2004 and finally, end of 2004 KGB and Alex Jumelin came to an agreement.This is a big step in the sport of flatland. Kuoppa and Gomez are more than happy about this movement, they have always enjoyed riding in the same jam circle with Alex and now it will be even more interesting since Alex rides for KGB. Alex has always been a great motivation for the guys at KGB and that's just one reason why Alex fits the team perfectly. KGB also releases more products in 2005. Fork, sprocket, pegs, 2 piece handlebar, stem and another frame are all in the prototype stage. Production starts as soon as possible.
2006
www.kgbflat.com, january 2006:

In about 1 month we are getting new patch of Psychopowers (Pink, Purple and White), Psychonnectas without 990 mounts and 2 new colours, Blue and White. Return 2, Trap 2, Control pegs in Blue, Red and Yellow...



www.kgbflat.com, january 2006:

Beginning of 2006 has been a sad day in the history of flatland as KGB and Alex Jumelin came to an agreement that they will not continue together. KGB couldn´t offer Alex good enough support for 2006 so it was clear that KGB and Alex will go into different directions. We wish Alex all the best in whatever he chooses to do and big respect for all the skills he has!
So the official pro team 2006 is Viki Gomez and Martti Kuoppa.