1986
GTV video.

Brian Scura designed the Odyssey GYRO and rakes in a commission of $1 per Gyro made.


Freestylin october 1986:

THE GYRO WORTH THE WAIT. You've no doubt seen it advertised. Maybe you've even checked down at the local shop to see if they hadone. But you've probably never actually seen one ... until now. By the time you read this, you should be able to pick up an Odyssey Gyro at your fave shop. Who's the mastermind behind the new spinning system? None other than Brian Scura, inventor of many novelties and amusing devices. Gyro cost? Nineteen gringo dollars(cheap). Colors? Obviously you're gonna find at least ONE that'll match your bike ... choose from white, black, blue, red, lavender; orange, green, pink, or gray. How does it work? Excellent. It has a split-cable system that starts as one cable coming out of the brake lever, then separates into two cables about where your crossbar is, one going to each side of the Gyro. There're also two cables on the bottom of Gyro which form into one about halfway between the rear brakes and the stem. What this amounts to is SIX cables altogether, working to give you less side load and smoother spinning action on the Gyro itself. Of course, the cables are teflon-lined for a killer feel, plus there are SEVEN different places to adjust the Gyro, which means you can get 'em completely fine-tuned. Also, you might want to note that GT bought the first production shipment of Gyros, so it's pretty obvious where you'll be seeing a lot of them soon. One place you WON'T be seeing 'em is on Red Line RL-20-IIs, 'cause the wraparound twin top tube makes installation impossible. Whether or not Odyssey will make a new model to fit RL2O-lls hasn't been determined, but we'll keep you informed. Rip down to the shop and check a Gyro out-you'll like what you see.
1987
GT demo tape.

Dan'up tour with Dennis McCoy, Eddie Fiola, Matt Hoffman, Rick Moliterno, Franck Scura and Bob Haro, may 1987.

Interview in Freestyle august 1987.
In your freestyle riding career you are responsible for several noted tricks.


Brian:

I've invented few tricks. I guess the first trick I ever invented was the Gut Lever. Martin Aparijo and I started working with it and Woody always gets mad when we don't include him in that. Woody's invented so many tricks that he doesn't need this one. The Gut Lever was kind of the first trick that I was in on. After that I invented the ScuraTuck and since then I've invented the Scurfer, which is basically a one-footed Scurfer standing on the handlebar. The Hurricane, which is an infinity roll with the bars spinning around. The Miami Hopper Overture, anyway, I've invented quite a few different tricks through the years.


And a little device called a Gyro is your invention, along with several other familiar products that are your responsibility.


Brian:

Well, right now the Odyssey Gyro and the Vans Kool Stop brake shoes are helping to pay the rent. In fact, they are doing a real good job at paying the rent. They're going to sell about a half-million Gyros this year; probably about a quarter-million of those little Vans Kool Stop brake shoes. That makes me real happy, so all you kids here's a thank you in advance for buying them. I've also invented the Race Lace hub which is now the GT Superlace pattern. I've invented the Take-a-Brake tool for adjusting side-pull brakes. The Command Post, Dirt Skirt, yeah, I've invented a few things.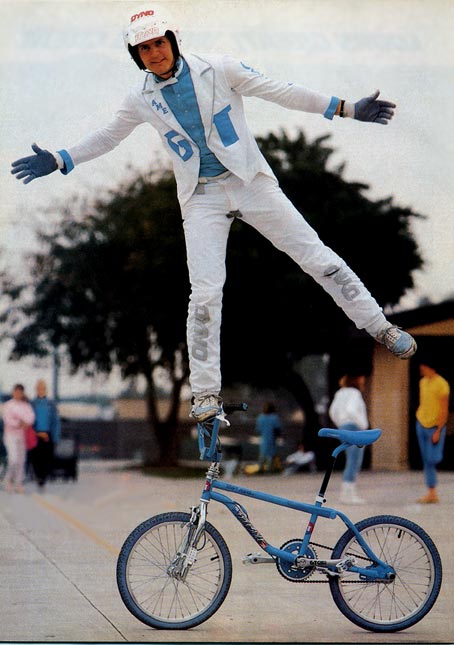 Scurfer 1987.