early years
Participant since 1992


Colin:

It started through high school - everyone was into BMX, and I got caught up in it. We all did it after school, and jumping curbs led to dirt jumps. We learned a few tricks, but by the time high school finished, I was the only one still with it.

I first got a Skyway Street Styler.




Colin MacKay, Chase winter 1999:

I was just a kid thinking my little BMX bike was just a motorbike. I guess I wanted to be in motocross, I used to have a motorbike when I was younger... I don't know how l got into BMX, but I just kept jumping... it just progressed, it seems. I actually started off doing flatland, because one of my friends across the road used to flatland and try tailwhips on the ground, so gave that a go one day, and I ended up liking it. I ended up getting a bike for myself and my dad ended up paying it off. My dad paid it off because I put it on lay-by, but I couldn't afford to pay it off, so my dad ended up paying it off for me. That was a Skyway Street Styler, back in '92. My dad totally helped me out with bikes, always helped me out as much as he could to keep my bike running good. He actually used to make most of my parts like my pegs and welding up my frames when they snapped. My dad's been good to me.



Colin MacKay, www.fatbmx.com, january 2006:

I was working as a shop fitter for two years and I won some money from the Aussie X treme games before I went to America the first time.
1998
Colin:
In 1998, me, Clint Miller, Shane Smith and Glen McLaughlin, my mates from Australia, decided to come over to States for a road trip just for a couple of months, to see and ride the places we had seen in the magazines and videos.
2nd place stuntboys street @ B3 Woodward august 1998
1999
Colin MacKay, Chase winter 1999:

I pretty much arrived in the US on April 7th. I came unsponsored and paid for my plane ticket and lust wanted to come because I was invited to [ride] pro at the Hoffman BS Series - for the X Trials.

11th place stuntmen street @ X-Trials, 1999 BS round 1, Louisville, KY, april 22-25, 1999.


Colin MacKay, Chase winter 1999:

I just came and rode in them, didn't expect to get in the finals, didn't expect to make it to the X Games or anything and ended up getting eleventh place, which shocked me... people that I look up to, coming up and saying I rode really good, and that made me feel good... I used to watch the X-Games back home and just dreaming that riding there would be just amazing, ya know, and it's kind of happening now.



Colin MacKay, Chase winter 1999:

I was invited by my good friend Chad Kagy to stay with him... I was lucky enough to get into Woodward and stay there for probably eight weeks or longer.., probably two weeks I was on crutches because I tore the ligaments in my ankle and was unable to ride and Woodward was recommended to me because of their trainers and I could get therapy up there and I would be on the road to recovery... Chad's helped me out a lot. Actually stayed with Barspinner Ryan - Ryan Brennan down in southern California for three weeks as well, so he was nice enough to invite me down there. I'm just trying to do good by everyone. I've got a lot of friends here now, so that makes me feel happy. I feel welcome.

Colin MacKay gets hooked up with Specialized.


Colin MacKay, Chase winter 1999:

The team manager [Travis Chipres] came to talk to me before even the first contest and before I qualified for the X-Games. I had breakfast with him because some other riders recommended me for their team because they needed a rider. At first he actually wanted me to represent them in Australia, like he wanted me to go home and just do shows and whatever for him in Australia. As soon as I qualified for the X Games, that same day, things kind of changed... we didn't actually talk much of a deal until about two weeks before the X-Games. I just waited to see what else was coming in. There was a couple of other things being talked about and my friends just told me 'don't jump in on the first deal, wait for what comes around'. Because I was in the X-Games, that's a pretty big deal to corporate sponsors and everything, so since I wasn't sponsored, it looked like they were going to sponsor me and get me on a contract or something... we worked out a good deal for the rest of the year.



6th place pro street @ 1999 X-Games, San Francisco, California, july 1999.


Colin MacKay, Chase winter 1999:

I'm glad that it was me that was able to represent Australia. There were three or four guys who could have easily been here, but I'm glad, that I guess I'm the first one to make it.



Suicide on the cover of 2020 australian summer 1999.

Interview in Chase winter 1999.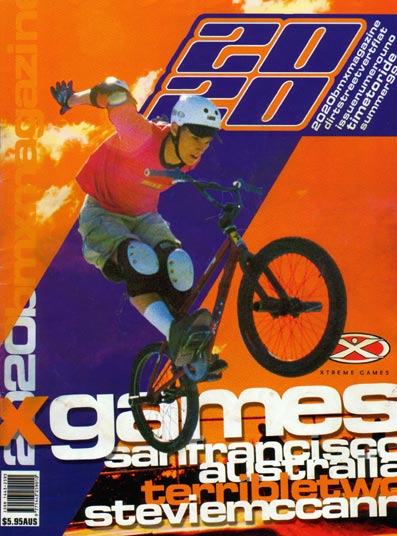 2006
Wall tap how-to with Colin Mackay in BMX Plus! january 2006.

Haro Forum frame.


www.fatbmx.com, september 2006:

The Forum frame was designed by Haro team rider & Aussie ruler Colin Mackay. Here's is some extra info on the frame also... "First off, the name represents what the bike represents: a large group of personalities, each with their own tastes and style. A Forum is never made of one person/use or function, much like this frame. It was designed with all types in mind. In years' past, Haro categorized their bikes by a discipline or particular category. We wanted to get away from that strict way of thinking, and made a bike that's good for riding...all types and styles. The Forum Partial Series is made up of a 16", 18" and a (smaller sized) 20" all available in the same color-ways as the Pro model. The Forum Counterpart and Pro models share the same frame (Details below-bullet points). The Forum Frame will come in one color only- Dark Maroon. The complete bikes have a two-tone paint job with matching forks and bars. The frame only will be the single-tone Dark Maroon color. The same color that Colin Mackay currently rides. Forum Counterpart/Pro frame geometry: . 5.4lbs. . 21" TT. . 14.25" rear end. . 74.5 degree Head angle. . 71 degree seat angle. . BB height- 11.5". . Bolt-on rotor tabs. . Mid BB . Internal Headset.