Date: may 16-18, 2003.
Place: San Antonio, TX, USA.



www.expn.com:

Teams representing six different regions (USA, Canada, Latin America, Europe, Asia & Australia) will compete in both Winter and Summer X Games events. The Winter events at Whistler will include Men's & Women's Snowboard Superpipe and Men's & Women's Skiing Superpipe. The Summer events in San Antonio will include Bike Stunt Park & Vert, Skateboard Park & Vert, MotoX Freestyle and Aggressive Inline Park & Vert. Each sport discipline's team will consist of two athletes and one alternate. Points will be given to each individual athlete, based on their individual event discipline placing. The point scale for all events will be 12 points for 1st place, 11 points for 2nd place, etc. The points awarded for Winter and Summer events will be combined, and the region with the most accrued points wins.
Park Course (BMX, Inline, Skateboard): 22,000 square feet (170 x 130), 40,000 screws, two benches, a picnic table, a plastic barrel and several boxes in the Street area, four rails for BMX and Skateboard; a fifth rail for Inline, 6-foot-tall bowl with an 8-foot tranny and a glass sub-box (first-ever, for up-close-and-personal camera shots), two launch boxes, one with a 12-foot gap, 1,512 man hours to build.



Jason a. Davis, www.notfreestylin.com:

Dave Mirra, blah blah blah, double tailwhip, yadda yadda hung up on the tailwhip flip over the spine. yadda yadda. Crowd yells. blah blah blah, kid holds up semi-clever sign. more yelling. blah blah. How is that for in-depth? First and second place was not a surprise to anyone. I would say one of the big surprises of this contest was Ryan Guettler from Austraila taking third place. I might be wrong but I don't remember seeing company listed as his sponsor. That cat beat many riders you have heard of before. Fourth place had Dave Osato. His riding is what you would expect out of Mr Osato. I did think it was dope as hell that he was wearing a Canadian hockey jersey. After some injuries from the Euros Bas Keep filled in and so did Jamie Bestwick, 5th and 9th respectively. I did think it was hilarious that Bas rolled around the course during Jamie's second run with a Union Jack as a cape. Shoe G came in 10th. I like watching that dude ride. He is having a good time. That dude just seems happy when he is riding. He was also impressed with the one word of Japanese I know. In 11th place was Alejandro Caro from Columbia. I remembering seeing this guy during practice. I couldn't figure out who it was. Some of the other photogs there thought it was Alistair Whitton. It made sense, he had that BIG style. Did super clicked Lookdown Flips (Lookup?). I thought it was Ali until I saw Ali hobbling around on crutches. Alejandro Caro got worked a couple times in practice. I was surprised he was still in one piece for the finals.



Jamie Bestwick, www.expn.com, may 2003:

Ruben Alcantara, was nowhere to be found. He's our Bike Stunt Park rider and he injured himself a couple of days ago. I guess he wasn't feeling up to par, and Ruben's the type who's all or nothing, so he pulled out of the comp. Our team manager asked me if I would ride Park, as well. I never really enter Park competitions, but I wanted to help our team. If an athlete doesn't ride in the event, the team has to take one point for last place. I was able to pick us up a few more. Four, actually, for ninth place. I had a great time on the Park course today, though. It's huge and kind of reminds me of the cage at Woodward. I rode it as fast as I could. I could've done more than I did, but I didn't want to kill myself 'cause my contest's tomorrow. My teammate Sebastian Keep did amazingly well in place of Alistair Whitton, who's injured, especially considering he just came off a broken ankle. It's so unfortunate that Alistair missed the event, 'cause I know he would've killed it.


BMX Freedom #9 august 2003

PARK RESULTS
1.Dave Mirra USA
2.Ryan Nyquist USA
3.Ryan Guettler AUS
4.Dave Osato CAN
5.Sebastian Keep EUR
6.John Heaton CAN
7.Colin Mackay AUS
8.Kenji Tsuruta ASA
9.Jamie Bestwick EUR
10.Shuji Ueyama (Shoe G) ASA
11.Alejandro Caro SAM
12.Andres Martorelli SAM

1.USA 2.Australia 3.Canada 4.Europe 5.Asia 6.South America
Vert Ramp (BMX, Inline, Skateboard): 13-foot ramp with 2-feet of vert, cost appx. $60,000 (typical ramp costs $30,000 - $40,000), 12-foot-wide, 20-foot-high roll-in, 15-degree hip, 60 feet in length, including the roll-in, 394 man hours to build.



Jason a. Davis, www.notfreestylin.com:

There were rumors were on the internet and there was a buzz about what Bestwick had in his bag for his vert run. You knew something was about to happen when Jamie had a few blank walls in his run. And then....The Tailwhip Flair. Take a few moments and wrap your mind around that one. That doesn't even make sense. Take another moment or two and let it marinate. There is a lot going on with this one. There might have been a lot going on that weekend but the first Global X Games will be remembered as The Jamie Bestwick and the Tailwhip Flair contest. (...) Second run almost pulls a fastplant flair. Mirra has double tailwhips down like most have singles. If you kind of unfocus your eyes a little it looks like Joe Johnson. But it wasn't Mirra in second. He actually got third. That went to Kevin Robinson. He put in an amazing first run busting all the tricks you expect from K-Rob. Only after his run you find out his he brakes gave up on the third wall. Simon Tabron came in fourth. Much of the same as you would expect. All four of the top guys put in amazing runs. In sixth was Jamie Merritt repping Canada. He put in a good run. If they ever make He-Man into a live action movie, all Jamie needs is a bleach kit. I would put money on Jamie if he ever got in a fist fight with Kevin Robinson. Also from Canada was Alliance rider Sarge Sigaty who came in 11th. His first run didn't go well, the second was much better. I would have placed him higher though. I remember when these tv contest first started all you ever saw was riders from the big companies. It was great seeing some of the smaller rider owned companies with representation there like 2Hip, Alliance, MacNeil and Master. Sarge and Merritt were the two vert riders from Canada. I was sounding like Clara Peller going around asking "Where's the Beast?" I was thinking it might have been politics but I found how he has an injured shoulder that he recently went under the knife for.



www.mongoose.com:

Simon Tabron rode extremely well at the event, placing 4th, just barley missing out on the last podium spot by . 20th of a point. Once again, Simon pulled the elusive 900 during his 4th place run. Simon was stoked to see his friend and teammate for the Global X-Games, Jamie Bestwick win the competition.



Jamie Bestwick, www.expn.com, may 2003:

I won Bike Stunt Vert. I pulled off one of the biggest tricks in my whole career, so I'm definitely feeling awesome. The trick I won with tonight was the tailwhip flair. It came about at Woodward Camp this year after I learned the flipwhip. I thought, I can already do flairs well, so why not try it? I don't know if anybody noticed, but to execute the trick I have to kick the tailwhip downside instead of regular because of the flair. That's the big deal about the trick. The combination of the whip and flair means there's two main things to think about: Once you kick the bike around, you're spotting for your pedals and trying to find where you are on the ramp -- all at the same time. I pulled the combination off today and it was a gem of a trick for me. It was scary though. Before I dropped in, I was tripping out on deck. It took me a long time to roll into my run because I like to get ready and focused. The time on deck is my time. I go when I'm ready. This is a big deal for me and I don't want to start without being mentally prepared. During that time before my run, I'm thinking about good things -- my riding, having fun. Trying to visualize being at home in Woodward and riding like I do every day. For me, vert success is finding that place, then putting it together. My whole run was like a jigsaw puzzle -- every trick was connected to a different place on the ramp. I knew where I had to be at all times, and I knew what trick was going where. I planned this run for weeks, but hadn't done it on a ramp. The Global set-up and the L-shaped ramp enhanced the flow because I didn't have to stay on the blank side; I could use the opposite side and give the run some variation. My line felt clean -- after the alley-oop five, I did a bar-spin to x-up, a regular air and an alley-oop one-handed invert. Once I landed that, I thought, "This is it, it's either all or nothing." I was thinking: "The bike is going round. I'm going to catch it. I'm going to ride away. I'm going to air the hip and get back on line. Flair. Flair. Job done. Go home." And it worked out perfectly. What else could I ask for? Everytime I pull something new, it's a great personal achievement. A lot of hard work goes into my riding and I'm just glad everyone was here to see it. Everybody knows I've missed the past two X Games, and it was really disappointing for me not to be competing last year. This year, I knew if I was here, and I was healthy and riding, then nothing would stop me. It turned out great. At the end of the night, I figured out the toughest part of the trick -- trying to ride away with a massive grin on my face. That's the trick.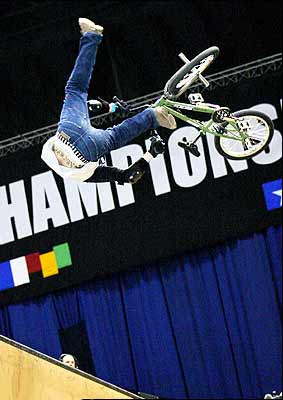 Jamie Bestwick Flair tailwhip.

VERT RESULTS
1.Jamie Bestwick EUR
2.Kevin Robinson
3.Dave Mirra USA
4.Simon Tabron EUR
5.Matt Fairbairn AUS
6.Jamie Merritt CAN
7.Seiji Saito ASA
8.Ricky Roich SAM
9.Andre Timoferzeras SAM
10.Robert Smith AUS
11.Rob Sigaty CAN
12.Shuji Ueyama ASA

1.Europe 2.USA 3.Australia 4.Canada 5.South America 6.Asia