Strange plywood floor.

MASTERS


Slam zine:

There were too much people, I can't remember everybody's name and who did what. I just remember the fastest combotricks I ever saw, a hitchiker into backpacker, a death truck into kabooz into deathtruck, very fast megaspin from Canada, a backward deathtruck, double decade, a front but roll back bar stand, some cool tricks wich names I don't know.

FLAT Pros 1. Chris Poulos

FLAT Experts 1. Klaus Dyba



tonestojko, www.youtube.com, august 2011:

BMX FREESTYLE WORLD, CHAMPIONSHIP - FLATLAND, Aalborg, Denmark, 1991: 1st place 16+: Efraim Catlow (GB), 2nd place master: Armin Batoumeni (F), 1st place PRO: Chris Poulos (USA). Camera & editing: Tone Stojko.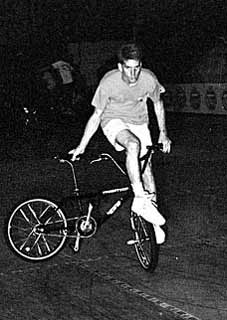 Chris Poulos won the pro class at the worlds in 1991. He didn't even put a foot down. Photo: Trond Husø/Spokesmen
Big blue halfpipe.

MASTERS
Ollie Matthews catching air like nobody, variations at 8 feet high, sometimes 9 or 10, a very aggressive lookdown, 7 twists back to back and so much tricks.
Simon Tabron was going very high (8-10 feet), invert, cancan, candy bar, one footer, 540 and a great 900 wich made everybody crazy and gave him first place, Ollie being second.
The last year world champion Johnny Petit did 540, tailwhip, no hander, no footer, lookdown, peggrind, tailtape, nose pick and a handplant attempt.

MASTERS VERT RESULTS: 1. Simon Tabron 2. Ollie Matthews

PROFESSIONALS.
Mike Hudson (the youngest) learned recently no hander and gave some lessons to everybody: peg grind, feeble grind, backward peg grind, and a cool back peg pick (ice pick ?)
James Hudson, his brother, did some smith grind, 270° smith stall, tried 270° peg stall, and he did too his famous backward step in, everybody got mad. He also did a curious run 540, went out of the halfpipe, turned all around it, came back by the other side, and did the same thing but with a whip air.
But so much people was waiting for something very special, something from Matt Hoffman. I've only seen two people do this strange trick, the BACKFLIP. Stephane Cureaudau did it twice a day cause he's working in a circus, so he did more back flips than anyone! but it isn't the same back flip as Matt. Stephane did it in the ramp. During his run Steph did no footers X-up attempt, the best fishtail I've ever seen, one foot into can-can into one foot, 540, not very much liptricks, and when he did his back flip, his head kicked off the vert and the coping, scary!
Mark Atkins practiced hard 9-10 feet air, no footer, no footer can-can, look back, a very slow smith stall, nose pick on the front peg, manual, tail tape to nose pick, and he tried 540 so much time, but he nearly did a 540 back flip (strange) and crashed hard.
Jamie Bestwick was better than ever, cancan at about 10 feet, his great one footer cherockee, X-up one foot, cancan peg grind, smith grind, the Matt Hoffman grinds attempt (backward smith grind, bar whiped), backward peg grind, tail tape, nose pick, and a rad can can lookback worthy of Matt Hoffman. "

When I won the World Championships in Denmark. I was the happiest person on the planet.

"

PROS VERT RESULTS: 1. Jamie Bestwick



tonestojko, www.youtube.com, august 2011:

BMX FREESTYLE WORLD, RAMP, Aalborg, 1991: 2nd place MASTER: Oliver Matthews (GB), 1st place MASTER: Simon Tabron (GB), 1st place PRO: Jamie Bestwick. Camera & editing: Tone Stojko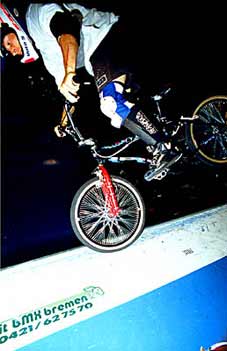 Remember these wheels? No? Well then you weren't riding in the early 90s. This is the 96 spoke wheels. Strong wheels, but must have been hell to build. Oh, and the rider: Olliver Matthews at the Worlds in Aalborg, 1991. Photo: Trond Husø/Spokesmen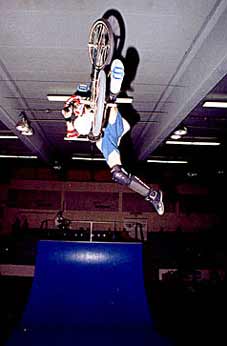 Jamie Bestwick doing a cherokee air during practise at the 1991 Worlds in Aalborg. Photo: Trond Husø/Spokesmen
Christian Richez, 2004:
J'ai terminé deux places derrière Yoann Véga qui roulait super cette année là. C'est la première vois que je voyais sur un contest en Europe une aire de street pour les échaufffement. En Rampe c'est incontestablement Jamie Bestwick qui a régné en maître en pro avec un 900 ° nickel et une première place. Stéphane Curaudeau a refroidi tout le monde en pro avec le premier back flip laché en contest. Je crois qu'il a fini second. En master, c'est Simon Tabron qui a fini premier avec un 900 ° nickel. En flat pro, c'est un américain, Chris Poulos, qui l'a remporté avec une routine mi old school mi new school pour l'époque, aucun pied par terre, une vitesse d'exécution phénoménal. Tout ça se passait dans une immense salle de sport d'Alborgh au Danemark, souvenirs mémorables d'une époque qui me manque.