Place: Skate City in Whittier, California.
Date: 1982.
Medias: BMX Action august 1982.



Fred Blood:

These guys are going to show you what nuts is all about.



BMX Action august 1982:

The raddest of the rad, the baaadest of the baaad. Bionic berserkos challengin' crit craters. The elite, feet above concrete. Just about every able body with a flair for rare air was there. Where? Skate City in Whittier, California.
Eighteen-year-old Bob Morales organized the event, sanctioned by his newly formed Amateur Skate Park Association (ASPA) and covered exclusively by BMX Action. Event co-sponsors included Haro Design, Skyway, Max, Torker, Vans, Oakley, BME, and BMX Action.
Competition was slated in four different bowls; Capsule, Freestyle, Clover, and Keyhole. Each contestant performed twice within alloted time periods. Total points from the best run were counted. There were no required maneuvers. Jeff Bottema, R.L. Osborn, Harry Leary, and Mike Buff served as judges. Fearless Fred Blood tested his tonsils as program announcer. Judging criteria formulated by Morales included style, maneuverability, smoothness, use of the pool, variety of routines, degree of difficulty, endurance, flow of performance, and overall showmanship. According to Morales, "We're looking for gracefulness and endurance rather than just somebody who gets crazy and crashes a lot." The contest drew 22 entries. Experts and Novices (those who had never ridden a skatepark competition) were split at age 16. Pre-entry was $7 plus $4 to the Boy Scouts of America for insurance.
The 16-and-older Expert battle for the King of the Skateparks crown shaped up as a showdown between Eddie Fiola and Fred Becker. The bio-air guy, Steve Bennett, crashed during Saturday's practice, Bob Morales withdrew on Sunday after injuring an ankle. Fiola and Backer offered contrasting styles for the judges. Fred went for altitude, footplants, danglers and canyon-crossups while Eddie flashed assorted one-handers, one-footers, and one-hander-one-footers. Eddie's performance in the Freestyle portion of the program generated most of his victory margin. Fiola edged Martin Aparijo by half of one point while Becker finished fourth, 31 points back. Fiola's win was steeped in drama. Or cast-aside plaster. He had broken a leg two months earlier messing around on a skateboard. Two weeks before Skate City he sawed off his cast to do a bicycle show. A checkup the following day revealed that his leg was fine, but that he had broken his arm just above the wrist the day before. A week later he crashed on his cast and then cut it off. He rode Skate City with his wrist taped. After the competition he gimped an ankle doing a flyout over the fence surrounding the Keyhole. The ASPA hopes to schedule a series of events and the folks at Premier look like they're behind the idea. According to Premier's Denise Barter, "There's a sport here, for skateparks and freestyle ramp riding too." BMXA agrees. The ASPA's first presentation had a few rough edges, but the basic concept really looks workable. A shorter, more intensified program could really pack 'em in. So, until next time, the king is Ed. Long live the king.



Tips from the fling kings:

BMXA talked to several of the padded radsters al the competition, looking for tips for would-be cement flyers. Here are some helpful hints we came up with:
'Wear the gear' Steve Bennett has never broken a bone riding pools and skateparks.
"Go with Z-wheels or Tuff Wheels. Forget about aluminum rims unless you're super smooth."
"The forks and bars are the most frequent casualties."
"Beef up your coaster brake arm," Eddie Fiota cut up a gooseneck to modify his coaster brake set-up.
"Gear harder, like 45/16 for parks. The way to get higher aerials is with speed."

ASPA King of Skateparks results:
16 over expert: 1.Eddie Fiola 2.Fred Becker 3.Martin Aparijo 4.Bob Morales 5.Saul Orci
15 under expert: 1.John Birkett 2.Richard Sigur 3.Joe Elhahl
16 over novice: 1.John Leonard 2.Dale Perez 3.James Austin
15 under novice: 1.Allen Mullins 2.Michael Dominguez 3.John Bryon



Donnovan Ritter, www.kingoftheskateparks.com, july 2013:

I have spoken to many riders that watched this competition and most of them said Fred Becker was going a couple feet higher than Eddie Fiola. Fred had some fast cool lines where he did a huge carve air over the canyon, Fred was considered their favorite rider. Fred admitted that he thought Eddie had beaten him. Eddie beat him by using variations like One-handed kick-outs and One-hander One-footer.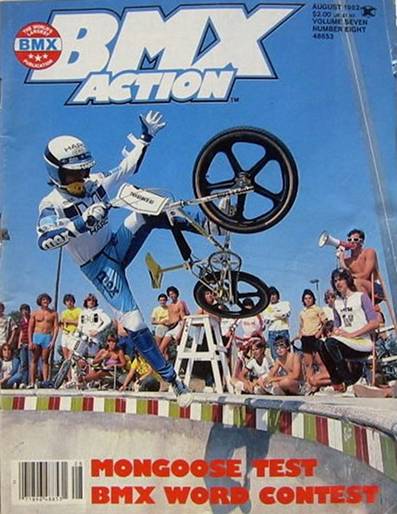 The newly crowned King of Skateparks Eddie Fiola at Lakewood on the cover of BMX Action august 1982. From left to right in the background: Bob Morales (in Haro jersey), Denise Barter (sitting in the chair with a nice tan), Woody Itson (the skinny/wimpy lookin' kid with no shirt on), R.L. Osborn (leaning on the judges stand, hidden in Eddie's rear Tuff), Mike Dominguez (hiding behind the announcer's stand), Steve Bennett (MFM shirt), and Fred Blood (the announcer). Photo by Bob Osborn.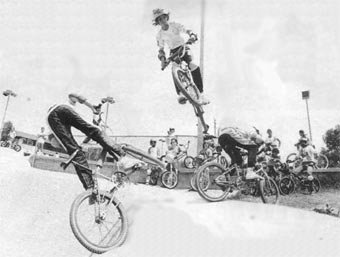 13 year old Mike Dominguez executes a flawless fly-out 360.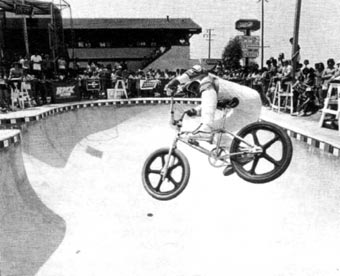 Bob Morales.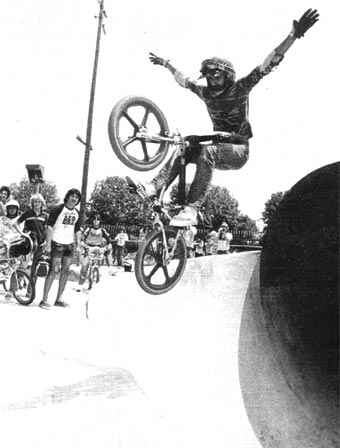 Saul Orci.