Jared Souney, www.ewire.com:

Pro flat was packed with 22 riders, knocked down to 10 in the finals. Andrew Farris got third, Chad DeGroot got second, and Trevor Meyer wins everything. Trevor is nothing but a robot; he was doing impossible inward spinning links, stick-b's kicking backwards, and more.

Andrew Faris (Basic) has a lot of bar-flip. He was looking unbeatable in practice but wound up with fourth place. Jason Brown had a flawless qualifying run and almost duplicated it in the finals.



Roni, Ride BMX US june 1997:


Hot: The fact that flatland was once again included at BS comps. The level of riding was incredible, and the competition was close. The contest area seemed decent for once, too. A fast, smooth floor and a big open space seemed good to me, but I know nothing.
Hot: Getting the pro flatlanders that didn't make the top ten cut to judge the finals. This insured a fair scoring, something that I'm sure everyone (including the judges) appreciated.
Hot: Day Smith's eighth place finish. Day rode smooth with pretty consistent links, but a few too many touches kept him back. Day was riding one of the new Hoffman EP bikes, and it looked pretty darn suave.
Hot: Andy Menz from Germany rode pretty "hot". Hot enough to take seventh, at least. Andy was another one that was in there with a consistent flow, but a few too many touches kept him to the back...
Hot: Spinning fast and controlled seems to be pretty hot these days. Both Jason Brown and Sean Peters seem to ride best when working themselves into circular frenzies. Jason got sixth, Sean got fifth.
Hot: Pink bikes. Yep, you heard it here first. Pink bikes are officially hot again. Someone phone Woody... Andrew Faris rode a pink Basic, and rode well. Andrew did a lot of front wheel links along with his darkside tailwhips, and kept it together with his usual slow and smooth riding style, but after a tie with Nate Hanson, fourth place was where he ended up.
Hot: Riding with a Metallica "Kill 'Em All" sticker on your top tube. Nate Hanson has gotten sooo good. He rode lower and more controlled than almost everyone, and moves like his cowboy flips helped to secure him third.
Hot: Sporting the rainbow sticker that comes with the new Baco Pride video somewhere on your bike. Chad Degroot is the leader of the Rainbow Coalition and one hell of a rider. Chad rode really well in amateur street (third place) with no footed nosewheelies and big 360 and even better in pro flat (second place). Move like backwards manuals to back wheel links and darkside ticks helped keep the pride alive.
Hot: Trevor Meyer is now scuffing stick bitches backwards. He used this, along with about a million smooth combos, to continue his reign of terror over the rest of the pro flat class (he won).
Not: Trevor's bars. Woohaa!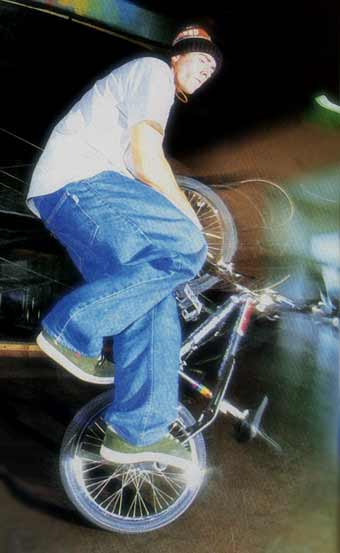 Chad Degroot. Photo by Sparky Clark.

STUNTMEN FLAT: 1.Trevor Meyer 2.Chad Degroot 3.Nate Hanson 4.Andrew Faris 5.Sean Peters 6.Jason Brown 7.Andy Menz 8.Day Smith

STUNTBOYS FLAT: 1-Steve Fong 2-Rodney Morweise 3-John Rokos 4-Eric Mitchell 5-Joey Phee
Jay Miron and Matt Hoffman both missed the contest due to injuries.
Dennis McCoy was back up to top form. He kept the tricks flowing during his vert run and even went for a huge flip fakie at the end of his run.



Jared Souney, www.ewire.com:

Pro Vert took place on the second day. After watching practice the day before it was clear the contest was not to be missed.
Pat Miller and Jay Egleston (both Schwinn riders) where doing some of the highest airs I have ever seen, and both made the cut.
Josh Heino got four flats in warm ups....yes four. Needless to say he was gettin' pissed.
Jimmy Walker was the only one besides Dave Mirra to bring the entire crowd to a frenzy: good 'ol Jimmy took out an ESPN camera man.
Kevin Robinson had the hometown crowd on his side. Kevin goes HIGH and did some of the highest 540's of the contest, but ended up getting shafted out of the cut by one spot -- but when Josh Heino dropped out, he was in. Kev ripped in the finals and got sixth.
Jon Peacy came out of retirement (and the skateboard clothing industry) and is back on GT. Peacy always ruled, and he didn't seem to lose anything in his absence. Final cut for Peacy.
Dave Osato has got skills: tailwhips, bottom side toothpicks, and much more. I've forgotten what place Dave got, but I know it was a top five spot.
John Parker ripped as usual. Super high airs, but no 900...slacker.
Dennis McCoy! Second place, and guess what? He learned flips on vert.
All right.....First place went to Dave Mirra. Dave is so good that no one makes fun of him for not wearing a visor on his helmet. Lets see here, huge airs, big variations, tailwhips, 540's, and a perfect flair at about six feet. Dave has them wired, no exaggeration.



Roni, Ride BMX US june 1997:


Hot: Dave Mirra riding both ways. Dave does airs and lip tricks in both directions now, making his riding flow like the mighty Mississippi (damn you, Swope). Dave was untouchable on vert, pulling huge no-footed can cans, 540s, flips, flairs, visor buzzers (OK, maybe not)...
Hot: Jimmy Walker plowing through a camera man while running off the ramp. Not since DMC has a spectator been taken out 50 hard by a rider, and never before has it received so much acclaim...

STUNTMEN VERT: 1-Dave Mirra 2-Dennis McCoy 3-John Parker 4-Dave Osato 5-Pat Miller 6-Kevin Robinson 7-Jimmy Walker 8-Rob Sigaty 9-John Peacy 10-Jay Eggleston

STUNTBOYS VERT: 1-Ron Smith 2-Brent Smith 3-James Cielencki 4-Dennis Stacy 5-Patrick Chenier
Jared Souney, www.ewire.com:

Pro practice was something similar to a stampede. I honestly don't know how nobody got killed. People were doing crazy shit in every direction and just missing each other....Aside from a small collision involving Troy McMurray and somebody else (Colin?) everyone seemed to avoid disaster. It would be impossible to describe all the crazy stuff that went on during the contest, so I'll just let some tidbits fly (in no particular order).
Ryan Nyquist can jump....boy can he ever. Double barspins over everything. Jeff Harrington did a really nutty transfer from a vert wall, to a wedge that was angled the wrong way. To top it off, he turned around and did it again no handed. McCoy ruled once again....gramps can sure street out. Big flips, 360's, nose wheelies and a 540 tail tap on the vert wall. Dave Freimuth did 360 tailwhips to pedals. Joe Kowalski did superman seatgrab barspins. Rob Nolli is so smooth. Nose wheelies to full bar spin, huge supermans, tail whips over everything, including a tailwhip transfer over a railing. Dave Osato tweaked his wheel and threw in the towel, so he didn't even make the finals. Colin Winkelman rode fairly conservative, but did start his run with a clean 720. He didn't do any stupid transfers, and I think his riding showed that he doesn't need to, he's still really good. Joe Rich impressed the hell out of me. Joe went HUGE on everything he did, including no handed flips, lookdown 360's and tons of other stuff. No Luc-e. On the subject of superdome personalities, Taj Mihelich also ruled. Amazing one handed tailwhips, 360's and bunnyhops over rails packed Taj's runs. About all that sticks in my mind now, is once again Mirra. What can't Dave do? He sure can do 360 tailwhips, huge truck drivers, nose wheelies, flairs, grinds in both directions, nosepicks and fufanus in both directions, and super huge hip jumps, perfect decade jumps. Dave is skill. Dave obviously won, McCoy took second, Nyquist third, and Joe Rich fourth.



Roni, Ride BMX US june 1997:


Hot: The fact that the pro street class had twenty six entrants, and all of them have gotten sooo good it's insane.
Not: Having to judge these riders. With the riding so close, riders like Colin Winkleman, Dave Osato, Butcher and many others didn't even make it Into the final ten...
Hot: The return of the duck helmet. Yep, Jeff Harrington brought the helmet back (to an overwhelming applause) and set it on the deck of a ramp to watch him go for an insane channel from the vert wall to a wedge ramp. He didn't make it, but everyone loved it, nonetheless Tenth place for Jeff.
Not: Jeff's bike. Sad, sad, sad.
Hot: Crazy, dread headed Scotsmen. Sandy Carson was back, and riding great. Sandy kept it together and consistent the whole time, and ended up with ninth place in his first pro contest. Good job, Sandy.
Hot: Taj Mihelch's final street run. Taj rode more "real street" than anyone. Bunnyhopping over rails here and there, and launching from a wedge over a rail and down a transition. Taj also pulled huge 360s and tailwhips over a really long, really low box. If it hadn't been for a wreck that took up over half of his first run, Taj would've done much better than eighth place.
Not: Forgetting to mention that Taj did a perfect (and high) one-handed tailwhip during one of his runs. He did, I swear.
Hot: TaiIwhips. Dave Freimuth, tech-wizard, is indeed the master of the tailwhip. Dave did them during alley oops, 360s, nosepicks, and downsided. Dave an amazing rider, and it was good to see him hold it together during a contest and get a well deserved seventh place.
Hot: Consistency. Not like paste, but like riding, and Rob Nolli's got it. Rob tailwhipped, spun, flipped, the usual deal, and did it well. He wrecked on a few flisp and didn't seem to be as barspinnity as usual, so sixth place was all he could muster.
Hot: Ron Kimler's riding. Ron rode really well, with his dirt/freestyle mixed style, and managed to keep it in control. Huge hip airs along with big long box 360s gave him a well earned fifth.
Hot: Dreadlocks. The kids just love them. From Craig Grasso and Dave Clymer to Sandy Carson and Joe Rich, the kids just can't get enough of the dirty hair. Joe flailed his through some incredibly upside down 360, fufanus on the sub and a great street flow for fourth place. It was good seeing amazing real-life riders that usually don't do too well in comps kick ass this time around. A big ol' high five for Mr. Rich.
Not: Luc E wasn't anywhere to be found the entire weekend...
Hot: Ryan Nyquist has a new sponsor in the form of Haro, and the boy from NorCal made them proud. Ryan barspun (multiples, back and forths, the whole deal) and 360ed (just as many variations as his barspins) with a clean flow and total consistent runs all the way to third place. It's hard to believe that this is only his second year as a pro and already he's kckin' ass with the big boys...
Hot: Not hopping during lip tricks. See, you can teach old dogs new tricks (man do I abuse that phrase with DMC), because Dennis' has smoothed his style out a ton. 540 tailtaps and nosewheelies on the vert wall, huge (HUGE) flips, truckdrivers, tricks on the sub... Dermis was on in Rhode Island. If it weren't for that unstoppable force from Greensville, North Carolina he might've won...
Not: Ice Money. He was nowhere to be found in Providence, and Dennis seemed quite upset...
Hot: Dave Mirra. Visor or no, Dave Mirra is ruling so far this year. Big decade airs, 720s, flips, trucks, huge (six foot or so) flairs.., just watch your TV (or even better, check out Props... ), you won't be disappointed. Dave rode so clean and powerful during all of his runs that even in a competition this packed with talent, it was obvious who won. When Dave stopped riding, everyone knew who won, making the judges' jobs that much easier.
Not: Jay Miron's abscence. Jay hurt himself riding just prior to the contest, so he wasn't there, but expect him to be a prescence at the rest of the contests. Jay's been riding a lot, so be fair warned...
STUNTMEN STREET: 1-Dave Mirra 2-Dennis McCoy 3-Ryan Nyquist 4-Joe Rich 5-Ron Kimler 6-Rob Nolli 7-Dave Freimuth 8-Taj Mihelich 9-Sandy Carson 10-Jeff Harrington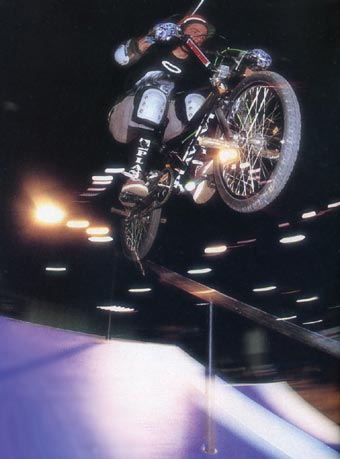 Adam Banton. Photo by Sparky Clark.

STUNTBOYS STREET: 1-Adam Banton 2-Jason Enns 3-Chad Degroot 4-Cecil Milligan 5-Pedro dos Santos 6-Richard Coleman 7-Adam Aloise 8-Brent Smith