Date: july 25-26, 1992
Place: San Jose, California.



Gregg Hansen, Ride BMX US october 1992:

The skatepark/event site/battleground looks like this: 24" half pipe next to a 6' spine/mini with speed bump. The street area: 1/2 capsule with platform, long box/short box launch ramp big transition to wall, big wedge to wall.
Big halfpipe 32'x11'

SOON TO BE:


Gregg Hansen, Ride BMX US october 1992:

Corey Bolton tightened his grip on the years overall title by slamming a few backflips into the transition. The McCauly Caulkin of the day was Danny Williams with a big effort on a 16inch bike. Think about trying a 540 and pulling axle stall dropins before you're tall enough to ride the good rides at Magic Mountain.

STUNTBOYS:


Gregg Hansen, Ride BMX US october 1992:

John Peacy was the favourite with those big smooth airs, 540s and 540 seat grab attempt.
Joe Tecca raged with rocket airs, candy bars, tailwhips, and a blistering 540.
Kevin Gutierrez, lip trick god.
Jim Burgess combined high airs with peanut buffer smooth riding, high airs, grinds and tailwhips.

STUNTMEN:


Gregg Hansen, Ride BMX US october 1992:

Dave Mirra said he was nervous going into the vert contest. That didn't stop him from pulling high tailwhips, manual, grinds, high 540's and a barspin tailwhip attempt.
Dennis McCoy kept up the pressure on Matt with tailtap barspins, nose wheelies, toothpicks, but bailed hard on a 900 attempt.
When you watch Matt Hoffman ride, you expect so much it's hard to keep him in perspective with the other riders. His runs seemed tame on Sunday, but take any other rider and have him pull no handed 540's, double tailwhips, feeble grinds to 270 and two 900 attempts, and well, you get the picture.
STUNTMEN VERT: 1. Matt Hoffman 2. Dennis McCoy 3. Dave Mirra
Gregg Hansen, Ride BMX US october 1992:

The contest agenda was street/mini on Saturday with three groups: Soon to Be, Stunt Boys, Stunt Men. Night Train Qualifiers started every hour on the hour. With Chris Moeller in attendance everything had to run on schedule to keep the King of the Racers happy. There's no rest for the anal retentive... The bottom line to the Qualifying round is to qualify.Them that did: Jimmy Levan, Psycho, John Peacy, Brent Linder, Dave Clymer, Sean Yarroll - high walirides and big variations. Ronnie Farmer Dirt Brother style wallrides and fast plants. Pete Agustin Superman jumps and some silly nac-nacs.

SOON TO BE


Gregg Hansen, Ride BMX US october 1992:

Soon To Be finals usually flies by and someone that should have entered Stuntboys always wins. This class had two exceptions: Corey Bolton and Mike Castillo were both trying backflips on the jump ramp. Corey landing and Mike to death.

STUNTBOYS


Gregg Hansen, Ride BMX US october 1992:

Stunt Boys finals went like this in reverse order:
Psycho .insane wallrides on any vertical surface in the park.
Brent Linder. Brent was local favourite. He had a big 180 over the jump dialled (so dialled he did it a couple times in every run).
Jimmy Levan. In lane one, after qualifying first. Jim spent his time on big nac nacs over the long jump, fat no handers, and manual barspins.
Kevin Gutierrez (Homeless Bikes) had a sick wallride into the wall, one handed lookdown 360s, and a big 540 over the hip.
It seemed like Keith Treanor 360'd everything possible.
John Peacy is smoolh. No-one abused the hip like Peacy all day. High airs and 540 over the hip, 360 seat grabs, lip tricks.
Dave Clymer busted high fakie wallrides and the most insane foolplant of the day. His big brush with death was his flyout to the vert platform.

STUNTMEN


Gregg Hansen, Ride BMX US october 1992:

A lot of people came to see the pros, a lot came to see some blood, a lot came to see what the noise was all about. The pro class is getting to be a Haitian Voodoo gamble to see which rider can risk the worst injury.
Dave Mirra started off pulling a sick tailwhip barspin and a no footed 360 over the spine. He has the ability to be the #1 pro someday.
Danny Schow showed some Grateful Dead style with high hip airs and burly fastplants to doom.
The battle in pro class was between Matt Hoffman and Dennis McCoy. Dennis hasn't been the same since his concussion in Dallas, and he seems convinced that backflips are the way to go out. Dennis backflipped the jump and nearly pulled a flip twist. Dennis' Big Trick came in his last run. He cleared off the vert deck and tried a 450 transfer to the spine of the mini ramp. Dennis looked like he was just spinning out of control aiming for the spine.
Matt Hoffman showed why he's broken so many bones. Matt pulled the highest wallride of the day, a 180 toothpick over the spine, and a huge flip over the channel that had half the people staring with a nice warm weight in their pants.
STUNTMEN STREET: 1. Matt Hoffman 2. Dennis McCoy 3. Dave Mirra 4. Danny Schow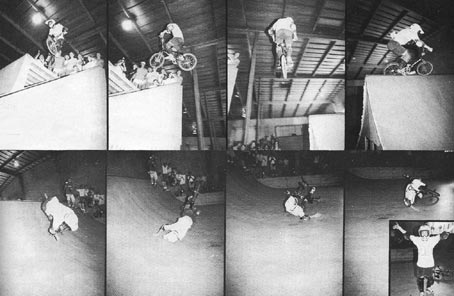 Dennis McCoy 360's the massive gap between the vert ramp and the mini ramp. Photo by Brad McDonald.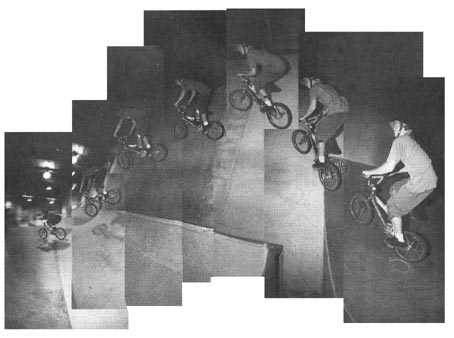 Jimmy Levan.