Date: 23 novembre 1986
Organisation: Bicross Magazine of Edition Lariviere by Mr. Didier Coste in cooperation with the A.F.B. with Mr. Rene Nicolas.

It was the 3rd time that this international recognized radical event took place at the Palais Omni sport de Paris .Bercy. It contained a cocktail of sport and show. 12 countries (11 European and USA) were represented with in total around 250 invited riders. Twelve USA Pro's were invited. Pete Loncarevich, Shawn Texas, Eddy King, Harry Leary, Stuart Thompsen, Eric Rupe, Greg Hill, Mike Miranda, Tommy Brackens, Mike Dominguez, Martin Aparijo.

Premier coup de free avec le Blix Haro de Provence (Jean captain Somsois et David Chabert). Sans complexe, les boys du Blix n'hésitent pas à repousser les limites, ils se montrent tels qu'ils sont, sans prétentions. Des purs, c'est sûr.

Les Mad Dogs de MBK avec Adolphe Joly, Jose et Michel Delgado apparaissent pour la deuxième exhibition. Mais voilà, les Mad ont des impératifs qui sont: MBK, la télé et la trottinette. Parce que MBK tient à présenter ses trottinettes à la télé, les MBK Boys passent donc, après le premier show des ricains, affublés de Fun Scoots.

Mike Dominguez: 540° aerial

Martin Aparijo au sol ; around the moon, double around the world, double tailwhip.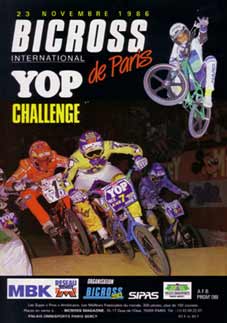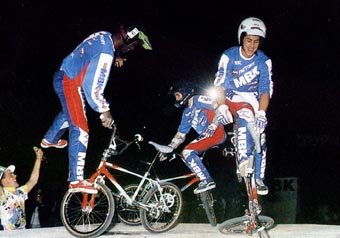 Les Mad Dogs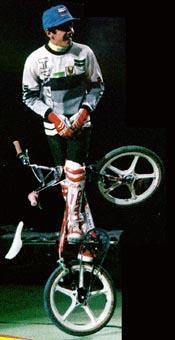 David Chabert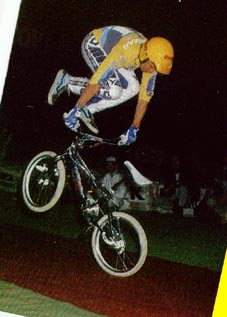 Martin Aparijo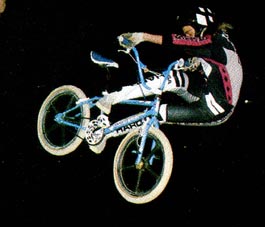 Mike Dominguez