Date: March 30-31, 1985.
Place: Alameda County Fairgrounds in Pleasanton, California.
Organisation: AFA



Super BMX and Freestyle july 1985:

Freestylers from throughout the nation gathered at the Alameda County Fairgrounds in Pleasanton, California, to participate in the American Freestyle Association's second Freestyle Masters Series event for 1985. This contest, held on March 30-31, was entered by over 130 trick riders, making it the most participated freestyle contest staged to date. Unlike the first Freestyle Masters event, held earlier this year in San Diego, this one happened nearly flawlessly and without a hitch.
Super BMX and Freestyle july 1985:

The Freestyle Masters Series is divided into two parts: Flatland and Ramps. Saturday's activities were limited to eliminations for flatland and seating for pros. The number of entrants in each division determined the number of participants making the finals the following day. In a class of 10 or less entrants only four advanced to the finals; a class with between 11 and 19 freestylers found six making the trophy round and a class with 20 or more participants had eight make the finals. All pros compete on the final day (Sunday) of the contest regardless of how many there are but the pro with the worst score on Saturday competes first on Sunday while the one with the best score has the advantage by competing last. All participants have one chance to compete. Novices have a minute-and-a-half; experts are allowed two minutes while pros are allowed the greatest amount of time at two-and-a-half minutes.
While Saturday offered the most competition, lasting from 10:30 am. to 5:00 p.m., Sunday featured the most excitement. The day began with finals for all flatland events and then things moved from an indoor facility at the Alameda County Fairgrounds to the outside where, literally, the sky's the limit. The move to the outside came after a few ramp riders complained about the short distance between the floor and the ceiling; they felt 25 feet was inadequate.
The novice class flatland finals kicked everything off on Sunday and they were really unbelievable, collectively they pulled off many difficult tricks and it won't be long before some advance into the expert classes.
Unlike contests in the past that featured, almost exclusively, Californian participants, this one was well, attended by out-of-staters. Two members of the MCS team, Bill Swoope and Bruce King, traveled to Pleasanton as did freestylers from Kansas City and Chicago. These nonCalifornian freestylers were by no means slouches, either. Bill Swoops, for one, took a second in the 13 and under open flatland division. The fiercest competition had to be the battle between 17 and over experts Brian Scura and Pete Agustin. Scura, the oldest entrant at 27, was considered by many to be over-the-hill and not capable of pulling off a winning routine. Brian proved everyone wrong by executing one of the most dazzling performances of the contest. Pete Agustin, on the other hand, didn't want to be outdone by Scura and went on to show his talents as well. As it turned out the judges gave Agustin the go ahead score and the first overall in this class while Brian had to settle for the second.
In the pro class on the ground Haro rider/team captain Ron Wilkerson was disappointing on the ground, yet made up for his lackluster performance there with a superb ramp routine. Ron's teammate, Dave Nourie, however, won the ground competition in the pro division. Pro freestyler Brian Blyther only entered the ramp contest and was far and away the favorite going in. His chances were dashed, however, when after only fifteen seconds he missed the ramp on his way down and slammed into the ground. Brian picked himself off the ground and opted not to finish his routine. But in those few seconds Blyther unquestionably grabbed the highest air for the entire contest. Ultimately the pro ramp segment was a close battle between Ron Wilkerson and Dave Vanderspek, both San Francisco natives. The ultimate win went to Ron in part because of Dave's falling off the top of the trailer used to secure the quarterpipe.

Judging notes.


Super BMX and Freestyle july 1985:

Judging is always a sticky subject when it comes to freestyle contests. It's not easy to determine who was best in any one division; it's even more difficult to determine who was fifth and who was sixth. Again five judges were used and the judges only changed when an entire classification was through competing; in that manner there is some consistency in the way scores are assigned.

Ready for round three.


Super BMX and Freestyle july 1985:

There was no question about it, the AFA conducted their most successful contest in Pleasanton, California. There were more entrants, more spectators and much more excitement than at any previously conducted event. This contest even had a family of spectators travel from the east coast just to watch! The third installment for the 1985 Freestyle Masters Series is slated for Venice Beach, California, on June 22-23, and if the AFA keeps up their good work, freestyle competition is certain to become a first-class participant.

FLATLAND
13&under open: 1.Aaron Dull 2.Bill Swope 3.Juan Machuca 4.Henry Fu
14-16 novice: 1.Karl Rothe 2.Mark McKukin 3.Rudy Machuca 4(tie).Mark McKee 4(tie).Philip Gauthier
14-16 expert: 1.Oleg Konnings, Eddie Roman, Jason Parks, Roko Smiljanic
17&over novice: 1.Mike Perkins 2.Shawn Condon 3.Jim Hull 4.Norman Chuck
17&over expert: 1.Pete Augustin 2.Brian Scura 3.Maurice Meyer 4.Robert Peterson
Pro: 1.Dave Nourie 2.Rick Allison 3.Ron Wilkerson 4.Dave Vanderspek

RAMPS
13&under open: 1.Mike Golden 2.Bill Swope 3.Aaron Dull 4.Richard Palimino
14-16 novice: 1.Rob Karnov 2.Kevin Schaub 3.David Leadrew 4. Shawn Samide
14-16 expert: Eddie Roman 2.Marc McGlynn 3.Chris Shaffer 4.Tommy Tojola
17&over novice: 1.Vince Torres 2.Shawn Condon 3.Jim Hull 4.James Jackson
17&over expert: 1.Tony Murry 2.Rich Sigur 3.Dennis McCoy 4.John Peterson
Pro: 1.Ron Wilkerson 2.Dave Vanderspek 3.Brian Blyther

OVERALL
13&under open: Bill Swope
14-16 novice: Mike Bartlett
14-16 expert: Eddie Roman
17&over novice: Shawn Condon
17&over expert: Dennis McCoy
Pro: Ron Wilkerson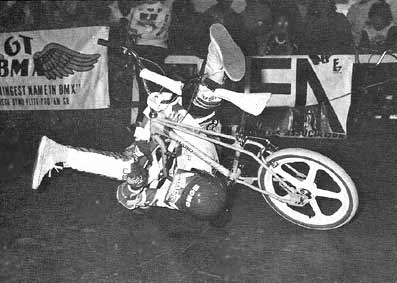 Dave Nourie never touched the ground and was suit able to pull off this stunt cleanly. This shows clearly why Nourie was judged the top ground trick artist for pros that day.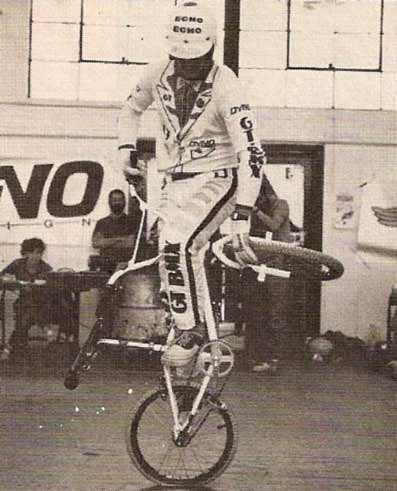 Wearing a "Scura Tux" Brian Scura properly executes a cherry picker; the hardest ground trick of them all. Brian is one of the few freestylers that can regularly pull off this stunt.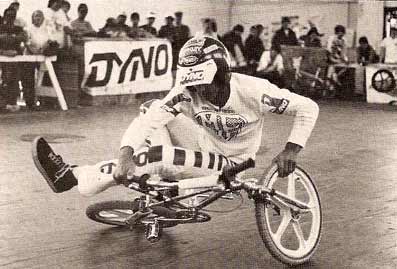 This event was Pete Agustin's second freestyle contest and he dominated his 17 and over expert flatland class by taking the overall win. That decision was the most controversial as many felt second place contender Brian Scura did better on the ground than Pete.