One thing's for sure: the ABA's venture into freestyle is moving in the right direction. Its first contest, held in Reno, Nevada, barely drew 20 entrants. Its second one, held at New York State University at Old Westbury, Long Island, saw almost 100 compete. The ABA is still lacking top rider participation -Dennis McCoy and Chris Lashua were the only pros to ride- but it looks as though things are shaping up for the '88 season.
Freestyle has become popular enough to demand more than one sanctioning organization. So there is room for an organization like the ABA to jump in. Apparently, the only problem is timing. The ABA's first contest was held toward the end of '87, well after every manufacturer had already been locked into a budget. Although many sponsored freestylers would have liked to compete in the ABA events, most companies were unwilling to pay their riders' expenses. They wanted to wait and see what the ABA contests were going to be like.

The ABA's second contest took place in a gym, featuring a slightly rubbery surface. Freestylers loved it; the floor provided plenty of traction.
John and Linda Lynch, veteran freestyle promoters, were in charge of this contest. Even Randy Loop (who was planning to become the AFA's new president) was one of the judges. The ABA has adopted a judging system similar to the AFA's: the high and low scores are thrown out and the remaining three are averaged. The only difference will come at larger contests (this one wasn't big enough) when the ABA will hold preliminaries to narrow each class down to the top four. The remaining riders will then compete in a Main Event to determine final ranking.

As we said, Dennis McCoy and Chris Lashua were the only pros to ride in Long Island. We say ride, because they really didn't compete. The ABA offered a $3500 pro purse, which was rescinded when too few pros entered. Instead, they offered show-up money of $500: $400 from entry fees, and $50 each from Hi-Torque Publications and Ron Stebenne. Dennis took home $300, and Chris received $200.

In the amateur ranks, the toughest battle had to be between Joe Gruttola and Jim Karanik in 16 & Over Expert. They tied across the board, receiving exactly the same scores from every judge-89. So a run-off was held in which Joe scored a bit higher, 88.3 to 87.6.

Probably the most disappointing aspect about the New York contest was the lack of spectators. Barely anyone was in the stands. While AFA's Masters Series contests regularly draw a thousand onlookers, the ABA hasn't been able to create such a following. But give 'em time; they've only just begun.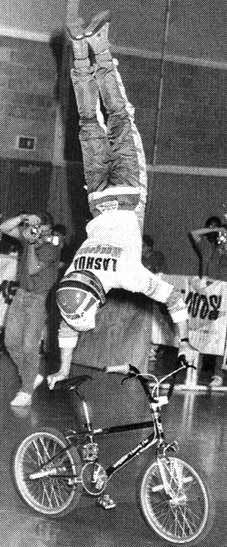 Chris Lashua would be a lot more famous if he lived in California, but he couldn't get much better. The guy rips.

16 & over expert: 1.Joe Gruttola 2.Jim Karanik 3.Mark Rolden 4.Goro Tamai

14-15 expert: 1.Hamid Rashidzada 2.Mike Karanik 3.Dave Mainenti 4.Carl Argila 5.Erik Romero

13 & under expert: 1.Rich Vasquez 2.Gabe Lewis 3.Mike Smith 4.Aaron Kiander