Mark Lewman, Freestylin, february 1989:

In Washington D.C. there are two kinds of people. The kind who would be interested in a 2Hip King of Vert and the kind who don't know what vert even is. Two thousand of the interested kind of people spent a Saturday inside the gymnasium of American Unversity so that they could witness round five of a live soap opera presented by 2-Hip, better known as the King Of Vert.

THE PRODUCER: Ron Wilkerson. He also stars in his own production. His bike was ripped off earlier in the week, so Ron rode (and wasted it by the end of the jam) Lee Reynolds bike. Wilkerson also borrowed someone else's bike for one terrifying run, shearing the crank arm off on an abubaca attempt.

THE DIRECTOR:Greg "Shaft" Hansen. A 23 year old genius from Trend Bike Source. He's the new contest director for 2-Hip, and he did a heckuva job making sure everything he's supposed to do got done. In his spare time he gave a kite flying seminar to American Unversity's freshman White Water
Rafting class.

STARRING: Brian Blyther. He wins every 2-Hip no matter what. Maybe it's because his runs are all back-to-back tricks, none of that "do a variation, hit a few feeler airs, do another variation" junk. Brian RIDES.
Josh White. The only stunt Josh pulled was showing up and not riding. Evidently The Doc needed to see a doctor.
Joe Johnson. All you really need to know is that Johnson pulled a double (2) tailwhip air. No kidding. He's also the sole member of Micki Conte's "team" and riding/ripping harder than ever. If someone's going to beat Blyther at. a 2-Hip, it will most likely be Joe. He took second here.
Dennis McCoy. Revealed a new trick which resembled a rock walk abubaca. His airs weren't what you could call in the low zone, either. 8 to 10 and getting higher all the time with variations to match.
Dennis Langlais. Consistently closing the gap between himself and the number one spot. Disappointing no one, Dennis spun 540's, hit high airs, clean no-handers, and finished 5th behind Ron.
Matt Hoffman. The am who's been ready for the pro class for a while now. During practice, Matt was attaining so much air that he attempted to footplant off a ceiling rafter of the gym and re-enter the ramp. To say the ceiling rafter was thirteen feet above the deck would be a conservative estimate. Alley-ooping variations over the channel-things like no hander one-footers, and disasters at four feet, and no-handers stretched forever into no footers... and like we said, he's been ready for the pro class for a long time.
Dave Voelker. Spinning 540 casually at heights that exceed 5 feet. Manuals the length of the decks, no-handed fakies almost as high as the 540, a couple of hearty slams, inverts, nohanders, lookdowns, and look back fakies. Momma Mia... give him second.
Lee Reynolds. Ouch is the first thing that comes to mind. NO ONE tries gnarlier tricks. But then again, no one has more battle scars than Lee, either. After some outrageous slams, Lee kept popping back up for more. It's not that he's a bad rider, but bad luck ... yes. Lee finished eighth and impressed many with his ability to pop out his fake tooth at will.
Chris Potts. The carver. Chris gains speed by pumping his carves and uses that speed to put himself high in the air. Attempted 540's and no-handers were his new tricks along with his old standbys, lookdowns, look backs, one-handed cancans, and styles from the old school. Chris ended up fifth.
Roger Sullivan. Roger made friends with the flat bottom quite often, but that didn't stop him from twirling 540's that were on the razor's edge between reckless and radical. Can-can look backs and no-footed can-cans were some of his stretchier variations.
Gary Pollak. The troublemaker. He remained docile off his bike (although I saw him hurling some uncustomary objects into the sticker toss pit) and shredded on his bike. Carlo Griggs has been staying with Gary, riding the half-pipe in his backyard. It's a made noticeable difference in Gary's riding... for the better. Seventh place.

CO-STARRING: Jon Byers. At last year's 2-Hip in D.C. he came out of nowhere (okay, South Carolina) and raged. This year it didn't take people long to notice him and perhaps remember his name. BIONIC reentry from 10 foot airs, smoooothly working the ramp. He came very close to finishing second in front of Voelker, but Dave held him off during the jam. If Jon can make it to more 2-Hip and AFA events next year, he just maybe "the guy" in '89.
Greg Guillote. He came from England. Well, actually, he came from Texas, but he lived in England for a while. It was there where he perfected his ramp riding skills. Friday night before the comp he had decided to turn pro-and was talked out of it by friends. It would have been interesting to see how he fared in the pro class. He ripped in am with nothings, chainwheel grinds, disasters, no-handers, Iookdowns, high airs. Fourth.
Carlo Griggs. Rumor had it that while practicing at Gary's house earlier in the month, Carlo had blasted a 13 foot air. Or a 14 foot air. Some even said it was 15 feet of air. Whatever the case, Carlo didn't attain any air at the contest due to some injured ribs.

SPECIAL GUEST APPEARANCES BY: Large Ray, the Plywood Hoods, Scooby, Nubular T. Johnson, 2-Hip Brian, Greg Hansen's Chinese food serving sister, Pete Kearney, Julie & Gina, Mark Roldan, Not Hadji, Bob Stukey, and Jeff Mayer.

KEY GRIP: Spike Jonze

GAFFERS: Chris Lashua, Andy J, Jim Dellavale, and Lew.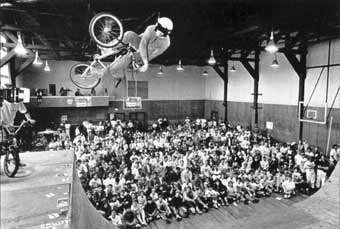 Greg Guillote carving a lookdown.

PROS
1. Brian Blyther
2. Joe Johnson
3. Dennis McCoy
4. Ron Wilkerson
5. Dennis Langlais

AMATEURS
1. Matt Hoffman
2. Dave Voelker
3. Jon Byers
4. Greg Guillote
5. Chris Potts
6. Roger Sullivan
7. Gary Pollack
8. Lee Reynolds


2-hip B-hip part 7/8. Round 5 begins at 2'30.


Krt Schmidt:

This is the second 2-Hip video created. It features all the 2-Hip contests held in 1988.