BMX Plus! november 1988:

It was a hot and humid day on Austin's Colorado River. Promoter Ron Wilkerson added an unusual twist to the contest by renting a barge for the contest and built the halfpipe on the barge. It was a novel location, but it did present some problems. the barge rocked every time the riders pumped for an air and every time they landed. Brian Blyther and Matt Hoffman were still able to push themselves up close the ten-foot level.
This was Brian Blyther's day. The young Haro star launched himself into the highest airs of the pro class, did an assortment of Cancan x-ups, a 360 manual (popout to wheelie to drop in), Candybars, some other moves and four very impressive 540s, one in each of his four rounds of riding in the final Pro Jam. He then ended his run with a flyaway 540 over the crowd on a smaller spectator barge, ejected from his bike in mid-air and landed in the water but he can't take credit for inventing the idea, because amateur Dave Voelker was the first rider to take the plunge into the water, ending both his elimination and finals rounds that way, and Skyway pro Craig Campbell preceded Blyther with the first 540 into the water, ending his run, and nearly taking out a spectator in the process. Craig was Brian's toughest competition in the event, coming in second in the Pro class. Craig moved to the United States from England just a few months ago. He put on a great run, blasting big airs, spinning 540s and even pulling off a nothing (no-hand no-footer). Ron Wilkerson invented the move last year, and he did a great one on his way to third place in the class. Josh White and Dennis Langlais took fourth and fifth in the five-man class. Josh rode well, but he crashed on one of his airs and hurt his wrist, ending his last run early. Dennis has improved tremendously in the last few months, to the point where he's pulling off no-footed cancans and other tough moves. But we'll have to wait and see if he can move into the top ranks of the class.
Wonderboy amateur, Matt Hoffman, stole the show with the hottest riding of the day. He did his incredible bar-hop air, a nothing, multiple limbless variations in many of his airs, all at close-to-maximum altitude, which was about ten feet out. He also did an impressive perverted-boomerang drop-in, which is where he poses on the platform on his rear pegs, yanks the front wheel up and spins his body over the head tube to land back on the pedals just in time to drop in. It's an incredible trick.
Switch-handers and other insane variations took Jack Smith to second place in Open Expert. Jack is definitely on the rise in the ramp ranks.

PROS RESULTS: 1.Brian Blyther 2.Craig Campbell 3.Ron Wilkerson 4.Josh White 5.Dennis Langlais

EXPERTS RESULTS: 1.Matt Hoffman 2.Jack Smith 3.Dave Voelker 4.Chris Potts 5.Eddie Cooper 6.Steve Swope 7.Chris Saldivar 8.Lee Reynolds



Lee Reynolds, www.facebook.com, august 2010:

Yeah, in order to get to this contest I drove the ramp for 32 hours non-stop.. then built the damn thing! I hadn't slept in days.. probably should have just spectated! Craig killed it as always..



Craig Campbell, www.facebook.com, august 2010:

One guy got my bike up from the bottom of that lake after I tried a sort of 540 fly out thing into it, must have been about thirty feet deep.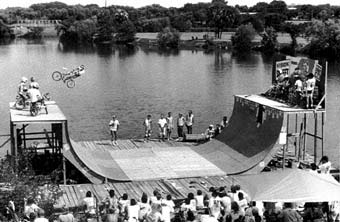 2-hip B-hip part 5/8. Begins at 3'40.


Krt Schmidt:

This is the second 2-Hip video created. It features all the 2-Hip contests held in 1988.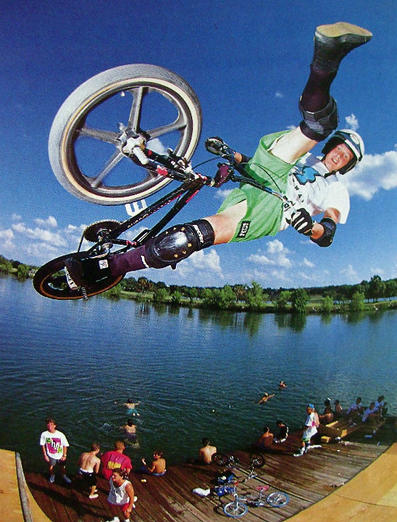 Craig Campbell