Date: may 28, 1988.
Place: Flint, Michigan.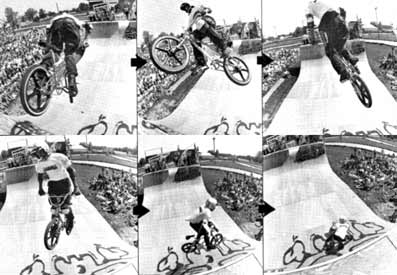 Lee Reynolds' 900 attempt.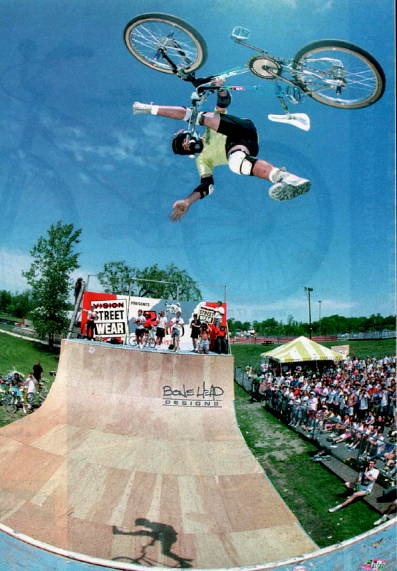 Mat Hoffman.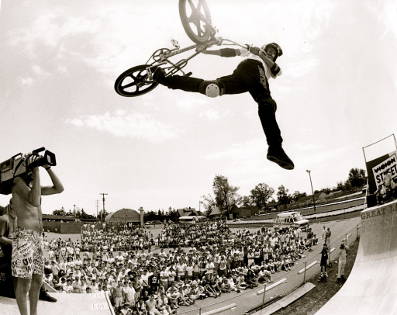 Lee Reynolds' cancan.




Rick Moliterno, 2011:

I love how it is stretched way out (as always) to the point where his left foot is just barely clinging to the pedal!






2-hip B-hip part 3/8 and 4/8.


Krt Schmidt:

This is the second 2-Hip video created. It features all the 2-Hip contests held in 1988.
Kris Dauchy, BMX Plus! october 1988:

An arcade: a family fun-park complete with go-karts, miniature golf and dancing clowns. This does not seem like the typical place to hold a halfpipe contest. However, this was the second year for Ron Wilkerson's 2-Hip King of Vert Playland Jam. The ramp was the same one used a year ago for the first Playland Jam. It was resurfaced for this contest and was liked by the riders. Now, you re probably thinking: Wow, a Playland with a halfpipe! Too cajun. But the owner of Playland doesn't allow anyone (including Greg Flowers, the builder of the ramp and organizer of the Playland Jam) to ride it during the year. So, for an entire year the ramp lies dormant, waiting for the 28th of May to arrive. The day of awakening finally came and both the ramp and riders were ready. The contest was sponsored by Vision Street Wear, Grand Blanc Cyclery of Firit, Michigan, and Great Lakes Freestyle (a sanctioning body for the Michigan contests that Greg Flowers holds).
The contest started at 11 a.m. with the amateurs battling it out for the top 12 spots. Soon there were almost 40 amateurs signed up. So, Ron decided to separate the class into two parts: an "A" jam and a 'B' jam with 18 riders in each. This seemed to work just dandy. Of those 36 riders, the ones with the top four scores automatically qualified for the final "jam" The riders who scored in places five through 12 had a "sub jam." The sub-jam consisted of the riders jamming until the top four were decided upon. Then those four, along with the top four from qualifying, went on to the final jam for the placings. For approximately two hours, the overwhelming number of amateurs threw-down for those first 12 placings and received the honor of moving to a higher jam. When the dust settled, the sub-riders were Gene Kneisley from Columbus, Ohio, General rider Roger "RogAIR" Sullivan, RogAIR's friend Jeff Mayer, Brian Dahl, Skyway's Bob Kohl and Jack Smith, Steve Broderson and Norco rider Rick Neuman. The top four riders in the qualifying round were Chris Potts from Hutch, English Hutch rider and peanut butter fan Lee Reynolds, and Haro's Matt Hoffman. The top spot in qualifying went to Dino DeLuca from Dyno, who beat out Matt Hoffman for first by one tenth of a point! These riders got to kick back and watch until the final jam broke loose.
At about 2 p.m. the sub-jam kicked off with the eight riders trying for the top four spots so they, too, could get a chance to battle for the gold in the final jam. All were good riders, and tried their best. But only four could make the cut. Today, those four were "The Flying Canuck," Rick Neuman, RogAIR Sullivan, Jack Smith and Bob Kohl.

THE AM-JAM


Kris Dauchy, BMX Plus! october 1988:

The hour of reckoning had arrived, and the final eight waited their turn at the ramp as some 900 spectators cheered on their personal heroes. RogAIR Sullivan had some problems with his personal ride and had to borrow his friend Jeff Mayer's bike for part of this jam. Norco's Rick Neuman miscalculated a 540 and spun right into the area where RogAlR was fixing his bike. Chris Potts was there helping RogAIR and hurt his arm when Rick smashed into him. Lee Reynolds is a sick lad. He does 540s with no feet on! After that (and a barrage of insanely difficult stunt maneuvers at a very lofty altitude), he attempted it... a 900. He missed it the first and second time. Ron Wilkerson comically tried to convince the obviously tired Lee to quit before he killed himself with fatigue, but Lee didn't stop. On his final attempt he did a full 900-degree rotation. Unfortunately, he landed flat bottom and slid out. Nevertheless, it was a 900.
The results: Haro's Matt Hoffman took first to beat out Dyno's Dino DeLuca. Lee took his 900 and no-footed 540 to third, and Bob Kohl took the final Playland plaque home with fourth.

EXPERT RESULTS: 1.Matt Hoffman 2.Dino DeLuca 3.Lee Reynolds 4.Bob Kohl 5.Jack Smith 6.Chris Potts 7.RogAIR Sullivan 8.Rick Neurman

THE PRO JAM


Kris Dauchy, BMX Plus! october 1988:

There were six pro riders present at the Flint contest, and you could tell that the spectators were ready for them. As Josh White began the jam, the crowd decided to get LOUD. But the noise softened a bit when, early in Josh's run, a no-footed one-handed invert misfired and Josh slammed. He hurt his ankle but was determined to finish the contest. He rode and did well considering the pain and discomfort he must have felt. Even a 540 perfectly timed into the channel and a one-handed cancan 540 wasn't enough to earn him a placing higher than fourth.
It was obvious that after winning almost everything in the flatland realm, Dennis McCoy was also going to try to go after the ramps. At this pace, he just might do that. Dennis McCoy goes HIGH! Very high! He also learns tricks quite fast. In Flint he saw Blyther do a 360 flyout to a manual; he learned it and did it -that day! He went on to do a flyout to a hang-five on the platform and then roll right in again. His Adidas teammate Joe Johnson did decidedly well in the Pro ranks in Flint. Joe's nothing-to-no-footed cancan and tail-whip flyout helped him take home third place.
The 2-hip man himself, Ron Wilkerson, busted some nifty lip tricks, high altitude airs and a 900 (he slid out, too), nabbing second. The man deserving the top spot was Brian Blyther. His airs were clean, high and smooth, and his lip tricks were cajun. He's got manuals wired and can easily execute a sprocket grinds the full length of the 28-foot ramp's coping. He is the King of Vert for today, at least.
Now it's over and done with and the ramp lies dormant once again until the next jam. The teams are now leaving for tours and this was to be the last time the riders would get together before the summer. A fun time was had by all and we anticipate that next year's event will be even bigger and better than its predecessors.

PRO RESULTS: 1.Brian Blyther 2.Ron Wilkerson 3.Joe Johnson 4.Josh White 5.Dennis McCoy 6.Dennis Langlais