The pro jam saw the raddest riding ever! The crowd and the riders were totally wild. Mike Dominguez was blazin'! He did a canyon 540, ultra-high airs, a rafterplant and all kinds of other tricks.


Ron Wilkerson:

Dude, I totally forgot to do a no-hander and a rocket air in the jam. Oh well, it was cool; I did a rafterplant, a backwards drop-in and 270 drop-in, among other moves. All this on an unfamiliar freewheel. I bailed three times in my run; they were all minor knee-slide bails, but they cost me some points.

Josh White bailed on a 540 canyon but pulled it off in his next run. He was jammin', too. He had killer variations and was makin' the crowd drool. Randy Tischmann was gettin' pretty rad but hung his back wheel on the channel and faceplanted early in his run. He was okay, though.
The jam lasted 20 minutes for four guys. The pros did six runs each. During the 'pro jam, the crowd was so intense, they were screaming, "Air, yeaaah! Air, yeaaah!"

After the jam, the judges checked over the videotape. When they were through, it was decided: Mike won, Josh took second, Ron got third and Randy got fourth. The results turned out fair, and everyone was happy.


Ron Wilkerson:

I was probably happier than anyone, though, 'cause the contest was a success. A direct quote from the likes of Mike Dominguez and John Ker: "This was the raddest contest ever!" After everyone had left, we had to tear down the ramp 'cause the landlord needed the building the next day. It went quickly, though-the excitement was still there. We finished around 3:30 a.m. It was snowing lightly outside, and I was dead tired. Now it's time to start working on 2-Hip King of Vert, round two: The Enchanted Ramp!



OPEN PRO RESULTS. 1.Mike Dominguez 2.Josh White 3.Ron Wilkerson 4.Randy Tischmann

OPEN EXPERT RESULTS. 1.Dale Matson 2.Krt Schmidt 3.Thad Miller 4.Ryan Benning 5.Brian Dahl 6.Tim Krueger 7.John Hughes 8.Rob Stieger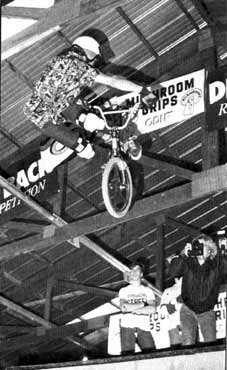 Although he did run and promote this contest, Ron Wilkerson also found time to ride.