2003
Ed Nussbaum is the founder and owner of Sick Child.


Ed Nussbaum, www.ridebmx.com, march 2003:

I saw that there were a lot of frames on the market—and there probably isn't room for one more—but personally, I wasn't really happy with all of the frames that are out. None of them seem to fit my riding. Not only fit my riding, but also fit what I want to represent, meaning a quality-made, US product. Out of maybe 30 or so flatland frames, only a handful are made in this country, and out of that handful, personally I'd only ride maybe one. So I decided there had to be an opening for US-made flatland product. I sat and thought about it, and Shawn White (at Bizhouse) said, "Why don't you just make a frame, instead of sitting and complaining about what you're riding?" I never really thought about it before that, someone just called me out on it. I couldn't think of a reason not to do it, and I could think of a million reasons to do it. I know that if I think like that, there's got to be other people that think the same way, like, "Here's all these flatland frames, they're all made at the same place in Taiwan, and they're all either heavy or they break." You're not paying a company that's paying the riders; you're not supporting anyone. Even if you buy some of the American-made products, you're supporting the wrong people. I mean, if you buy a Sabbath, you're supporting Sean McKinney, and that's what I think needs to be going down in this industry. But with most of the other flatland products, you're not supporting a rider, you're supporting some CEO driving a nice car, and I'm just not down with that.

Designing the frame


Ed Nussbaum, www.ridebmx.com, march 2003:

I bought a roll of paper, cut in half with a hacksaw so it would fit on my desk, got some drafting tools from one of my friends, and just learned how to work with the tools…triangles, 45s, 30-60-90s, protractor…all that. I just drew it out. It's not as easy as you would think to draw a frame, but I really drew it and designed it. I didn't hand it to someone on a napkin and say, "This is my idea, this is my concept, this is how I want it." I drew it perfect; 19" top tube, 76-degree head tube angle, 71-degree seat tube angle, 12.75-13.25" rear end (give or take a little bit), Euro bottom bracket, with brake mounts on the seatstays. The frame weighs about six pounds.
There are a lot of bikes out there that seem to be exaggerating one design, and a lot of people probably think that they came out with something different, when it's really just a Tao frame exaggerated. Clearance is always an issue with the front wheel, and I run zero-offset forks, so I don't have much clearance—so I tried to figure out something new to do with the down tube, something that might look a little different. I thought of doing that joint; it's not like that's some kind of weld that's never been done—it's Graveyard. But no one's ever taken it to the frame. I just figured that would look sweet, and I've never seen broken Graveyard bars. So, this is going to last, it's going to be strong, it's going to look good, it's going to function.
I got a prototype and was immediately pleased with the feel of the bike. The geometry and all the angles felt really good. The production run came out and it was identical in feel to the prototype. It looks great; I'm really happy with everything about it. It's pretty light; it weighs six pounds and it's really strong. I kept it strong so it would last for the kids out there spending 300 bucks on a frame. I'm going to do a couple of things, maybe lighten it up an ounce here or an ounce there, but I'm not going to go for five pounds; I'm not going to take all the strength away from it. Kids are out there riding, they want to do a feeble grind here and there, so let 'em (laughter). It's going to hold up. It's strong where it needs to be strong; I'm not cutting corners.

Version of the frame with a straight down tube.


Ed Nussbaum, www.ridebmx.com, march 2003:

There's probably kids out there today that aren't even using pegs; they just want to roll and do pedal tricks, so they're not going to be doing cross-footed hitchhikers and halfhikers and stuff, so maybe they like a more simple design—even though I think the jointed down tube is pretty simple. There's no bend, there's nothing complicated. But some kids just want something even more simple.

Sick Child team.


Ed Nussbaum, www.ridebmx.com, march 2003:

Right now, the Sick Child team consists of Erin Donato and myself. It's going to stay right there for now. I've got Bobby Carter on flow. We'll see what happens from there.



www.agoride.com, septembre 2003:

La nouvelle marque américaine Sick Child arrive maintenant en Europe, le team grossit vu qu'outre Ed Nussbaum, on a pu voir Stephen Cerra et Trevor Meyer rider avec le magnifique Badda Bling (5) (18.5" ou 19" euro bb).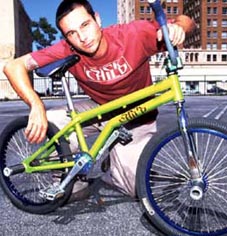 Ed and his Sick Child. Photo by Kevin McAvoy, www.ridebmx.com