1994
Morales introduced its first BMX frame designed specifically for BMX freestyle "Flatland" riding. No other bicycle company had ever designed a frame for such a specific use. The frame was an instant success and put Morales BMX on the map as a serious maker of BMX bike frames. Designed by Shaun White, the frame has double oversize toptubes, a short wheelbase. Most bizarre is the raised design of the chainstays.


Bob Morales, Ride BMX US april 1996:

Basically it's an old Torker, I don't know if anybody really deserves any design credit.

The first Morales' pro rider Jesse Puente was featured on the cover of Ride BMX magazine in June of 1994 riding this frame in a contest he won.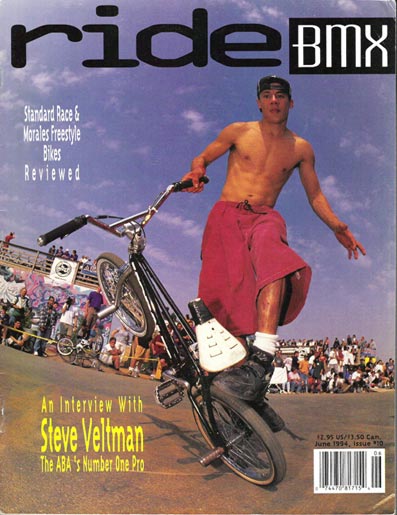 1996
Bob Morales, Ride BMX US april 1996:
For 96, the top tubes are a thicker diameter. Basically right under one inch, they're metric. They're like 22 mm, they were like 19 before. The seat and chain stays have caps on them, and they're angled, basically to keep shoes from getting thrashed. The headtube angle is 75.
As far as input, Team Morales. You know, Edgar, Jesse, when he was was with us, Sean McKinney, all the Fugitives, they all had input on the frame. Anybody who was on Team Morales, they all had input on it. Basically that it is one of the only frames that we're aware of that is designed for just flatland. Most frames are kind of like multi-purpose. For the serious flatland only guy, he should think about looking at this frame. That's why it's got the elevated stay on it. In 95 we only offered the frame in black and chrome, but now we have ten colors.; we're doing black and chrome, but we also have red, green, blue, white, yellow, and then we have copper, and we have purple and a blue version of that. It's a translucent powder coat over the chrome, which is basically from back in the seventies, Mongoose was doing that. But nobody's doing it now, so what goes around comes around. It's sold as frame only, but it vorks with any fork. They have a choice of a standard 7/8 or a 22.2 mm seat post, or they can take out the insert and run a 31.6 oversize seatpast, which Primo, Graveyard, and Kore are making seatposts to fit this frame.
1997
Morales BTS.


Ride BMX UK february 1997:

The Pro Flatland frame from Morales has been out for a couple years now and it's insanely popular - it definitely made manufacturers think about flatland specific frames, and there are now a few flat-only frames being made today: so Morales could be credited with kicking the flatland frame resurgence off again. Morales have refined the Pro Flatland frame for 1997, and have now also released a brand new frame made for street riding, and it's called the BTS: which stands for Better Than Sex... whatever.
If the BTS is one thing, then it's definitely burly. The frame is made from 4130 cromoly throughout and sports a 2 inch toptube and a 2 inch downtube, along with a headtube so oversized that it needs shims to size it down. This frame weighs quite a bit, but in a pure raw way of thinking if weight = strength then this is a Sherman Tank. The BTS has two wishbones - one is formed from the toptube, and the other is formed by the downtube being slung underneath the bottom bracket: this is a unique design. The rear stays are made from 1 inch OD tubing. The seattube is also oversize, Morales provide a shim so you can use smaller seatposts [just like the flatland frame]. A set of AD brake lugs sit on top of the chainstays - and the cable routing itself is also pretty unique: a twin cable stop is mounted on the downtube, and the inners snake through a cable guide on the seattube to the rear AD brake. This looks pretty dialled, and should work great once it's dialled in. Also unique is the detangler cable routing - instead of having to use the standard detangler plate which goes in the frame, Morales have put two cable stops on the headtube making it cleaner [could this feature start popping up on other frames?]. The rear dropouts are 6mm thick, lasercut, and the dropout slots are cut for 14mm axles [Morales provide washers so regular size axles will fit OK]. Morales have added another unique feature at the back - a pair of huge peg mounts, drilled and slotted ready to bolt in a set of socket pegs, are added below axle height. So you can forget about bent axles on this frame although you can't fit pegs on your axles [so you don't have the choice]. Still, the peg mounts look beefy enough. This frame [it doesn't come with forks but it would look perfect with a set of Kore Street forks which have the same peg mounts] is built super tough - massive fat tubing, 4130 throughout, good attention to detail, and unique features. Sure it's not everyone's cup of tea, but it does look super rad for sure. How does it ride? Well, it's sized right, and input from Morales' street riders has been put into the frame, so it's definitely not just a looker. It's built for abuse.